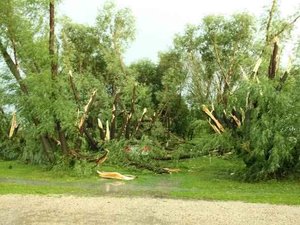 Weather agency seeking eye witness accounts, pictures of Wednesday's storm
Environment Canada is looking for photos and eye witness accounts of the "exceptional" storm which ripped through Southern Manitoba last week.
Several communities were left cleaning up after a huge tornado-producing storm plowed through the province on Wednesday, ripping out trees, snapping hydro lines, flipping vehicles, and damaging buildings.
Environment Canada has given the tornado a preliminary Enhanced Fujita Scale 1 — or EF 1 — rating but said that additional experts and witnesses are being consulted and the rating might change.
The tornado touched down west of Long Plain First Nation, Man., just before 7 p.m., according to the weather agency. It headed east through the community causing extensive damage, including lifting a house off its foundation.
The tornado went further east across the Assiniboine River and through the southern part of the New Rosedale Hutterite Colony, damaging grain bins and destroying farm sheds.
The twister finally lifted near Highway 240 around 7:20 p.m., Environment Canada said.
The tornado was considered exceptional because of the damage and also a "swath of 10 to 20 kilometres wide of straight-line wind damage affecting a significant part of the region,"
Environment Canada said. Some of the winds gusted to 140 km/hr.