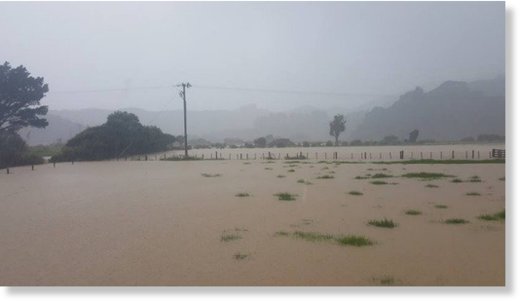 Coromandel residents told how they were caught out by fast-rising floodwater after the heavens opened on Sunday.
Cars have been left stranded on flooded roads and homes are water-logged after the North Island was drenched in rain.
Many fences are down as farmers wait for the morning to see if livestock in flooded paddocks have made it through the night.
Tellic Evans from White Star Honey at Colville at the northern end of the Coromandel Peninsula said
174ml of rain fell on her farm on Sunday.
A severe weather watch was upgraded to a warning at 6.30pm on Sunday, she said but by then it was too late.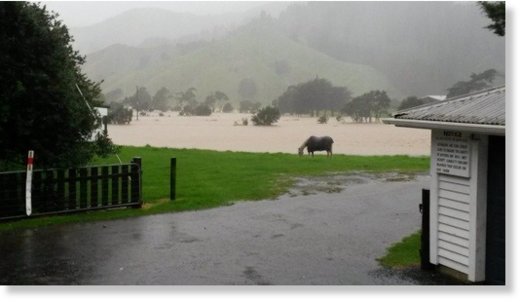 "It' had already hit us by then," Evans said.
"We've got stock that are up to their bellies in water because we didn't move them to high enough ground because we thought it wasn't going to rain that much."
Paddocks and fences are damaged, neighbours closer to the foreshore have already lost stock and a number of homes, including her own, are surrounded by flood water
The Colville School is also affected.
The Coromandel Peninsula and parts of west Auckland bore the brunt of the heavy downpour.
The rain stopped at about 9pm and Evans hoped to see flood water recede with the low tide.
But she won't be able to do anything for her animals until dawn on Monday.
"We couldn't get to them because they were surrounded. It's like, leave them and hope we don't lose them."
Elsewhere, one car had to be rescued while driving through water in Albert St, Coromandel, while the nearby town of Colville was flooded.
Fire Service shift manager Daniel Nicholson said a driver was trying to get through a "small river of water" in Coromandel at 4.50pm.
They were trapped in their car as they attempted to get to higher ground but were eventually freed, he said.
Fire crews also responded to floods in Colville at 5.30pm.
MetService had warned of heavy rain in Northland brought upon by a trough of low pressure moving southeast from the subtropics.
In Auckland there were consistent showers during the day, with several flooded houses west of the city.
A loungeroom in a Ranui home was flooded, while a basement of a house in Titirangi was flooded, requiring portable pumps to get water out, Nicholson said.
MetService warned more wet weather was on its way for Sunday night, with rainfall of 50mm to 80mm expected to fall on the Coromandel up until 9pm.