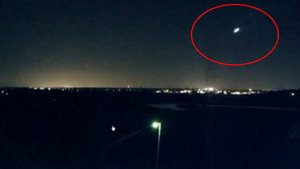 A meteor streaked across the St. Louis area on Friday at about 10:16pm. We received many reports from viewers about the shooting star. Sightings of the streak of greenish-blue light were reported in four states, Wisconsin, Illinois, Missouri, and Tennessee.
Two of our web cameras caught a great view of the meteor, Eckert's in Belleville, IL, and Mattress Direct in South St. Louis County . In the Belleville view, you'll see the green object streak across the screen followed by a spider walking across the camera lens.
We are in the midst of the Lyrid meteor shower, which is active each year in mid to late April. In 2016, the peak of this shower is expected on the morning of April 22, so there could be more shooting stars.
I just saw a massive meteor in Champaign, IL. It was probably a sixth the size of the moon, bright green, sweeping across the sky #meteor

— Isaac Chambers (@isaacchambers) April 16, 2016
Raise your hand if you saw that mindblowing mutant meteor streaking across the sky tonight! The universe just passed a massive kidney stone!

— STL-Style (@STLstyle) April 16, 2016
It was so amazing! It looked so low in the sky... Like it could take out the arch

— laura slay (@lslay) April 16, 2016