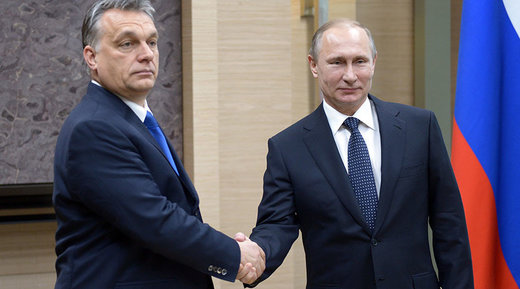 Hungarian Prime Minister Viktor Orban says it is important for Russia's relations with the EU to return to normal following a meeting with President Vladimir Putin, who in turn described Budapest as an "old and faithful partner."
Putin was meeting with Orban at his residence outside of Moscow, after the pair met a year ago in Hungary.
"We are all interested in relations between Russia and Europe returning to normal and this is in the interest of Russian and Hungarian relations," Orban mentioned.
The two parties agreed to extend a gas deal, which will see Russia supply Hungary until the end of 2019. About 85 percent of Hungary's gas flows from Russia.
Last year, Putin and Orban signed a new gas deal that replaced a 20-year contract that expired in December 2015. Under the agreement, Budapest is paying only for the gas it actually consumes, as opposed to the volume it contracts, making it a lucrative offer for the low-demand client.
Putin said he's happy with the quality of relations between Russian and Hungary, though he accepts there has been a drop in trade.
"We are satisfied even despite a well-known drop in trade turnover. We are content with the nature of our relationship," Putin said, adding that Hungary is an "old and faithful partner."
"We are really counting that the plans we came up with a year ago during my visit to Budapest, will move forward and come to fruition," Putin added.
In 2015, during Putin's visit, which also took place on February 17, Russia and Hungary inked a number of deals, including agreements on expanding Hungary's Soviet-built nuclear plant and natural gas transit.
The so-called Paks-2 is an important project for both countries. Initially sealed at the end of 2014, the 12.5 billion euro contract, partly aided by Moscow's €10 billion ($11.4 billion) loan, would add two new 1,200 megawatt (MW) reactors to the Hungary's only acting nuclear power plant.
Located on the River Danube, some 100km from the capital, four Paks reactors are currently producing up to 50 percent of Hungary's electricity. However, Hungary may lose the bulk of its power within the next 20 years, as the remaining reactors would go offline between 2032 and 2037.
Despite the necessity, Paks-2 has been challenged in Brussels, with the European Commission launching an in-depth investigation over its suspected non-compliance with EU rules.
"The Commission's role is to ensure that when public funds are used to support companies, this is done in line with EU state aid rules, which aim to preserve competition in the Single Market," it said in November 2015.
Although Hungary went along with EU sanctions against Russia, it has been criticizing the decision to isolate Moscow.
"I have made it clear [to Putin] that Hungary needs Russia," Orban told reporters last year. In 2014, he also said Europe "shot itself in the foot" as the sanctions policy pursued by the West "causes more harm to us than to Russia."