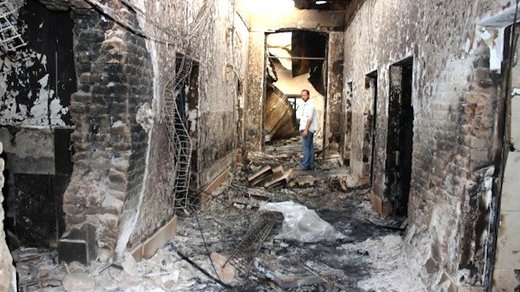 The international medical humanitarian organization Doctors Without Borders says
Saudi fighter jets bombed Yemen's northern province of Sa'ada, killing the relief agency's ambulance driver and four other civilians
. Malak Shaher, the spokeswoman for the medical charity, which is also known by its French acronym MSF, said on Friday that the kingdom's
air raids hit the villages of Dhahyan, Baqim and Jawf
late Thursday in Sa'ada Province.
The air attacks hit the ambulance driver, who worked for MSF and the Jamhouri public hospital in Sa'ada, while he was on his way to one of the bombing sites, Shaher told AFP, without elaborating.
"Air strikes in three villages in Sa'ada left
five dead and 35 injured
. MSF & Ministry of Health ambulance driver was killed," MSF Yemen wrote on its Twitter account. However, Yemen's official Saba News Agency quoted a medical source as saying that
the death toll from the Thursday's air attacks on Dhahyan rose to 26 people, most of them medics,
after seven people succumbed to their injuries. The source added that Yemen's al-Masirah TV cameraman was also among the dead.
It is not the first time the relief agency has been targeted by the Saudi warplanes. Earlier this month, MSF said one of its clinics in Sa'ada was pounded by air attacks that claimed the lives of at least four people. In December 2015, MSF also accused Saudi Arabia of bombing its clinic in the Yemeni province of Ta'izz, wounding nine people, including two staff members.
Yemen has been under military attacks by Saudi Arabia since late March last year. The Saudi military strikes were launched to supposedly undermine the Ansarullah movement and bring fugitive former president, Abd Rabbu Mansur Hadi, back to power.
At least 8,278 people, among them 2,236 children, have reportedly been killed and 16,015 others injured since March 2015. The strikes have also taken a heavy toll on the impoverished country's facilities and infrastructure, destroying many hospitals, schools, and factories.