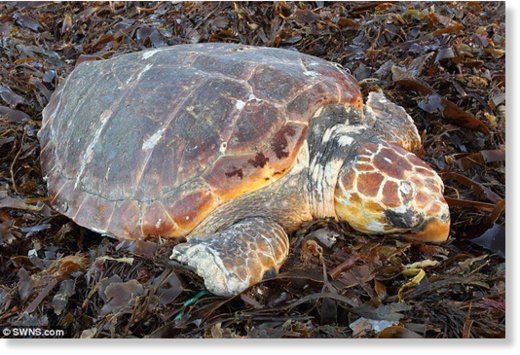 A huge loggerhead turtle normally found in the Caribbean has stunned wildlife experts after being washed up on a British beach.
The 3ft turtle, whose species are very rare visitors to Britain's cold waters, was discovered thousands of miles from home on the shore at Langton Matravers in Dorset.
This was the biggest of the few hundred of the turtles that have ever been found in the UK, and it was discovered by Steve Trewhella after he learned it had been spotted on an isolated beach.
Mr Trewhella - alongside three other experience rescuers - braved the stormy weather to find the turtle, which they found to be badly injured with holes in its shell and damaged flippers.
He said: 'I received notification from Dorset Wildlife trust that a member of the public had found a stranded and live turtle on a beach near Chapmans Pool in the Purbecks.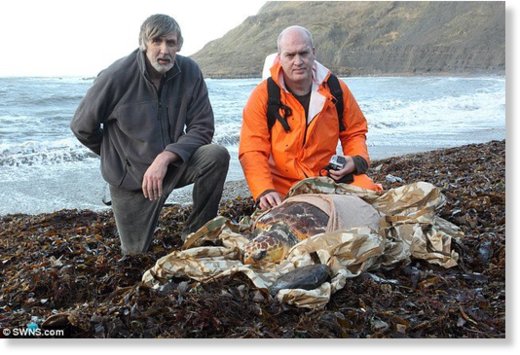 'Myself and other experienced rescuers decided to go down at first light to rescue or recover the animal. The beach is very difficult to reach, and would have been too dangerous in the dark.
'Four of us met and made the long walk to the beach. When we found the animal we assumed it had perished, but then movement was observed and it quickly became a rescue.'
He added that the team wrapped the injured turtle in an army field stretcher before they made their way through water and waves and back up a winding cliff path.
They then phoned the stranding network and a decision was made to take the turtle to Weymouth Sealife Park around 25 miles away.
Mr Trewhella added: 'It likely washed up because of the stormy weather, and that comes hand in hand with the warm weather we're experiencing these days.
'We are getting a lot of windy, predominately Atlantic storms which are washing up lots of unusual things. It probably only managed to survive round here because the water is so warm still.
'Things are washing up from Florida and all sorts - there's a phenomenal amount of transatlantic debris washing up, so there's a good chance of this turtle has come from that part of the world.'
The turtle is found in the Atlantic, Pacific, and Indian Oceans, as well as the Mediterranean Sea. It spends most of its life in saltwater and females only briefly come ashore to lay eggs.
The turtles were once intensively hunted for their meat and eggs - and, despite legislation to protect them, they are still consumed in countries where regulations are not strictly enforced.