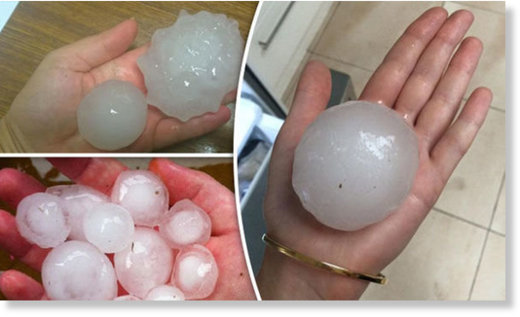 Sydney was hit by a rare tornado on Wednesday.

Destructive winds above 200km an hour hit the area.
The Bureau of Meteorology issues a Severe Thunderstorm Warning for parts of New South Wales on Wednesday morning.
Huge cricket ball sized hailstones pummelled from the sky, terrifying locals.
Huge storm in #Sydney #sydneystorm. Tornado winds 200km.Hailstones like eggs, tennis balls. Don't mess with nature. pic.twitter.com/Go6lQZjBXK

— Il Mulinaccio (@VillaInChianti) December 16, 2015
@JChurchRadio @fadernauts #f2b #kgraHi guys. We just had hailstones in Sydney. pic.twitter.com/oECTG3CVxx

— Bloke from Oz (@MarkTorana) December 16, 2015
Many took to Twitter to document the freak weather.
The Australian Bureau of Meteorology (BOM) issued the rare tornado warning around midday as the dangerous storm swept up the coast from Sydney's south.
It forced some international and domestic flights to be diverted to other cities.
There were no reports of major damage and only a handful of people were reported injured as the storm passed over Australia's largest city.
Sydney battered by freak thunderstorm bringing tornadoes, giant hail stones and... https://t.co/7Bd6AcLvjc pic.twitter.com/dv6LuuPvzO

— pakstatus (@pakstatuscom) December 16, 2015
But social media was abuzz with terrifying snaps of the storm as it unfolded.
Many shared images of the huge hailstones that fell.
Whilst others captured the dark, stormy sky.
James Taylor, senior meteorologist with the Bureau of Meteorology extreme weather desk, said on Wednesday: ""The tornado risk has now subsided but there is a very good chance of more thunderstorm activity for the rest of today."