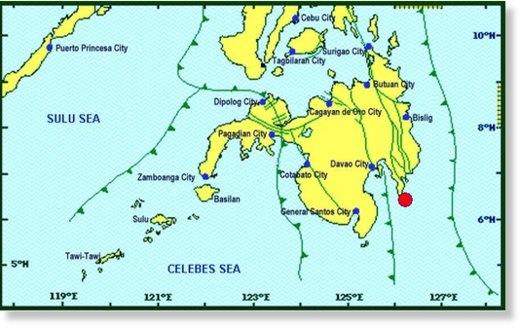 A series of earthquakes struck in some parts of Mindanao yesterday, December 10, 2015.
However, the various provincial disaster risk reduction and management councils in said areas reported no damage or casualty in yesterday's tremor.
The Philippine Institute of Volcanology and Seismology (Phivolcs) said that the initial earthquake with 3.2 magnitude was registered at 11:45 a.m. on December 10. Its epicenter was plotted at 147 kilometers (km) northeast of Lingig town, Surigao del Sur, with a depth of 29 km.
A magnitude 3.5 tremor followed at 3:36 p.m. of the same day, with epicenter traced at 12 km southwest of Governor Generoso town, Davao Oriental, with a depth of 28 km.
Another 4.6 magnitude earthquake was also recorded at 6 p.m. at the same town of Governor Generoso, with the epicenter 32 km southeast, with a depth of 26 km.
A 3.0 magnitude also registered at 6:24 p.m. Its epicenter was traced 33 km. northeast of Burgos town, Siargao Island, Surigao del Norte, with a depth of 27 km.
In its bulletin, Phivolcs also said another 3.2 magnitude tremor was also registered at 10:59 p.m. Its epicenter was traced 19 km. southwest of Damulog town, Bukidnon province, with a depth of 24 km.
The state agency said the series of earthquakes were all tectonic in origin. They were caused by movements along a local fault in said areas, it said.