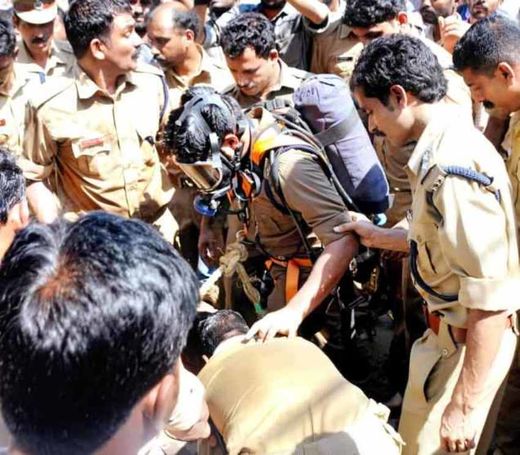 2 labourers, good Samaritan die of asphyxiation in sewer
Two cleaning workers from East Godavari district of Andhra Pradesh and an autorickshaw driver from the city died of asphyxiation during a maintenance work in one of the sewers in the city on Thursday.
The incident took place at around 10.30 a.m. when the migrant workers Narasimhan and Bhaskar Rao attached to a private contract agency, were busy with measuring the water level in the 12-ft sewer after opening its manhole.
Eyewitnesses said it was Narasimhan who first fell into the sewer after inhaling the toxic gas that gushed out of the manhole. Bhaskar Rao and auto-driver Noushad Karuvissery, 32, were asphyxiated when they tried to save Narasimhan.
"Unaware of the risk involved, the two entered through the manhole, ignoring the warnings of the merchants from the area," they said.
For around 30 minutes, all the three were trapped inside the sewer as the frantic rescue efforts made by the local people did not yield any result.
By the time the Fire and Rescue Service team reached the spot, the three had died. The bodies fished out from the sewer were shifted to the Kozhikode Medical College Hospital for post-mortem .
Police officials said there were no supervisors at the spot when the two workers opened the manhole and tried to measure the water level without taking any safety measures. Though an engineer had been assigned to supervise the work, the labourers opened the manhole while he had gone to get fuel to operate the pumpset, the police said.
Autorickshaw driver Noushad's death was the most tragic as he totally ignored the security warning during the hurried rescue work.
"The man, who tried to lift one of the victims
fell unconscious within seconds
," said N. Subhash, a head-load worker who was present at the spot. He said the people gathered at the spot were totally helpless to manage the situation other than waiting for the help of the Fire and Rescue team.