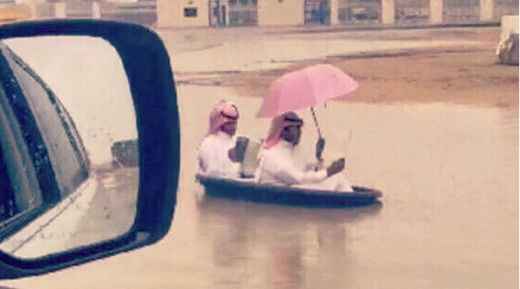 Cars floating in rivers that were once streets, water gushing through ceilings and people sailing to work on boats - that's the current picture in Qatar and Saudi Arabia, both desert countries, which should be dry and sunny for the whole year.
Qatar's capital Doha was apparently unprepared for the deluge and flooding that damaged many buildings in the city. The area near the capital's Hamad International Airport was hammered with around
66mm of rain in just a few days
, according to the Qatar Meteorology Department.
For the record, Doha has 75mm of rain on average a year.
Many buildings at the multibillion-dollar airport failed to hold up to the torrent: pictures and videos on social media show water flooding into the passenger terminal.
Cascades of water fell from a ceiling inside Ezdan Mall in Doha,
Doha News
reported.
"Inclement weather" prompted the closure of schools across the country as well as the US Embassy in Qatar on Wednesday.
The Qatar Interior Ministry advised citizens to be "cautious"
.
"Flawed [building] projects" that didn't withstand the rains have angered Qatari authorities. Prime Minister Sheikh Abdullah bin Nasser bin Khalifa Al-Thani ordered all companies guilty of shoddy building practices to face the public prosecutor.
"Parties responsible for dereliction or negligence, whether governmental or private, will be held accountable. All bodies and companies that implemented flawed projects must be investigated and then face public prosecution," a spokesperson for Qatar's Government Communication Office told
Doha News
.
Neighboring Saudi Arabia was also hit by heavy rains. Drivers were forced to abandon their vehicles in some streets. Schools have also been closed in the worst affected areas for a minimum of two days.
At least one person was killed in the floods in Rimah Province, Saudi media reported, citing local authorities.