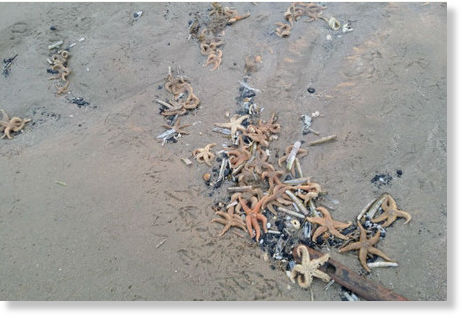 A haul of dead starfish, crabs and other marine life has been discovered on a Lincolnshire beach.
Ian Mann, who owns a holiday home at the Skegness Sands park discovered the dead sea creatures this morning on a stretch of beach at Ingoldmells.
He said:
"It was like a killing spree.
"I was just walking my dog on the beach and I threw the ball for him when I noticed something was washed up.
"I went for a closer look and noticed all these dead starfish.
"There were some in little puddles.
"There were also a few dead crabs, some with their claws missing.
"There must have been well over 300 - more than what you can see in the photos.
"I haven't seen anything like it before.
We see jellyfish on the beach every now and then but that is about it."
Among the creatures is what could be a common sun sea star - it has a sun-like appearance with 13 orange tentacles or arms coming from it.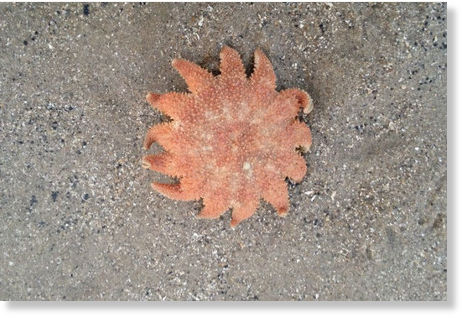 Comments from Mr Mann's post to the Facebook page Ingoldmells and Chapel Fans suggest the haul could have been washed up as a result of recent storms and high winds.
Sean Brooks said: "It's down to stormy weather that washes them ashore."
Charlotte Noddles said: "
God I not seen a star fish at skeggy in years."
Claire Charleworth posted: "That's awful. We never saw anything dead or alive on the beach at all this year. Wouldn't have liked to have seen all those dead creatures though."
William Watson said: "Always the same after rough seas."
Sharon Comrie said: "Seems to happen every so often. Noticed a couple on there yesterday"
Lynne Oldale said: "It's because of the Storms that we have had it brings them up of the Sea beds."
Glen Bradford said: "I have found many Sunflower seastars along the coast from Mablethorpe to Skegness."
Trevor Wilkes added: "Could be the rough seas thats dredged them up and washed them ashore."
While Kym Fisher posted:
"Not seen any for years even I was a kid there was always loads washed up on the beaches."
In June starfish were found washed up at Skegness.
Speaking at the time, Stacy Adam curator of Skegness Aquarium said: "Usually they are found washed up after heavy storms.
"We have had quite choppy seas and a very strong current so it could be down to that washing them ashore."
Source: East Lindsey Target