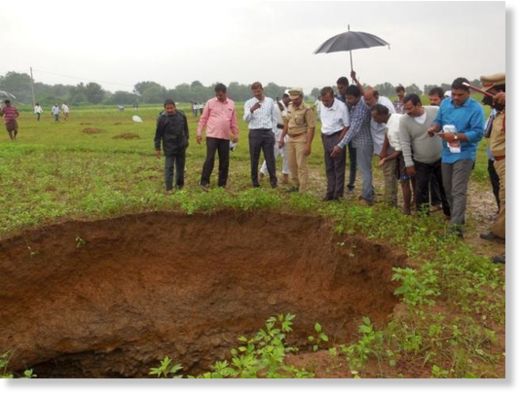 The revenue and police officials of Kadapa exhorted the villagers of Nayanoripalle in Chintakommadinne mandal in Kadapa District to vacate the village and move over to safer places and large sinkholes formed in the village could endanger lives.
Kadapa District Collector K.V. Ramana and Geological Survey of India officials of Hyderabad visited Nayanoripalle village on Sunday and inspected the multiple sinkholes. Earlier, officials of the mining and groundwater departments conducted a survey on the Collector's directions and detected limestone deposits at a depth of 30 feet.
Heavy rains since a week resulted in dissolving of the limestone and soil sunk to depths of 30 feet, the officials deduced.
The villagers were panic-stricken with the formation of sinkholes of a diameter of 25 metres at several places in Nayanoripalle.
Nearly a dozen large sink holes were formed
near Sri Bugga Malleswara Swamy temple and a mini-water tank atop a 15-foot high cement concrete pedestal sunk into the ground. A sinkhole was formed in front of the mandal parishad school in Nayanoripalle and the school compound wall, a surface-level water tank and a couple of trees fell into it.
The sinkhole formation was coupled with defeaning sounds spreading panic among the villagers.
As sinkholes were forming with deafening sounds, the officials called upon the residents to vacate the village, as continuing to live there could endanger lives. Already over a dozen families left the village to take shelter in the houses of their relatives elsewhere. The revenue and police officials are proposing to evacuate the villagers who are continuing in Nayanoripalle.