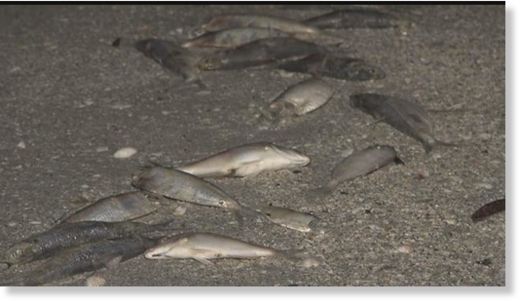 A massive fish kill on Sanibel Island could keep beachgoers out of the water and off of the sand.
Before walking out on the beach at Gulfside City Park Wednesday night, you could certainly smell that something fishy was going on as
thousands of dead fish have washed ashore.
When Erin Neitzlt and her friend Joyce Nardo made their way to the Gulfside Beach, they were looking for a little getaway.
"I just like the sea air. It smells good out here, listening to the waves. It's a good way to relax out here and beat some stress," said Neitzlt. "To relax, hear the waves, I love it here."
They likely didn't expect to find thousands of dead fish strewn across the beach, which could likely be the result of red tide.
The latest reports released Wednesday by Florida Fish and Wildlife indicate the algae bloom, which is common in November, has made its way to Southwest Florida.
"It's a little fishy, but it's refreshing," said Joice Nardo.
Fish kills can also be caused by sudden increase or decrease in water temperatures, as some fish species are sensitive to these types of environmental changes.
Erin and Joyce aren't letting a few fish kill their moonlit relaxation time on the beach.
"When I heard what was going on, it didn't make a difference. I still put my chair right here in the sand so I can listen to the waves," said Neitzlt.
"It doesn't matter what's on the beach, I'm just going to listen to the waves and smell the ocean air."
NBC2 has made calls in to several local marine life experts to confirm exactly what caused all these fish to wash up dead here on the beach.