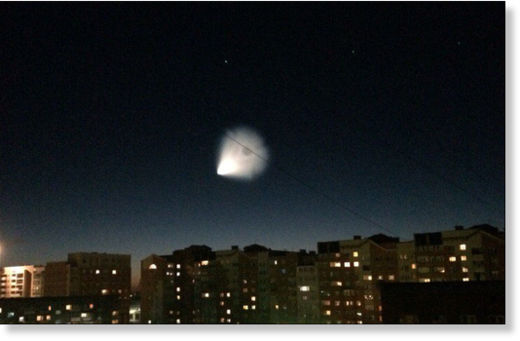 Described as 'scary but beautiful', the streaking fireball provoked jokes about aliens and Batman's calling card, but no-one could definitively explain a flying object that was also seen far to the south in Astana, the capital of Kazakhstan.
Footage highlighted by major media outlet LifeNews showed the UFO flashing fast track over the local IKEA furniture store in Omsk, heading in an easterly direction. Yet it is one of a number of recent unexplained flying objects over Siberia - links to others are
here.
Astronomers at the planetarium of the Siberian State University of Geosystems and Technologies in Novosibirsk said of the early evening 17 November sightings: 'It is definitely not a comet.'
Their theory was that 'the object was the second stage of intercontinental ballistic missile Topol launched at 15:12 Moscow time (or 18:12 Novosibirsk time) from Kapustin Yar cosmodrome in Astrakhan region.'
Insider Camila Sharzhanova explained that the exact construction of the newest modification of Topol RS-12M is a secret but she speculated that the object was the second stage of the new missile. 'It was whirling so that the trajectory doesn't change, the fuel left was discharged through side nozzles.'
TASS stated that the missile hit its trial target at Saryshagan polygon in Kazakhstan.
Yet many doubted that its routing would take it over Tymen and Novosibirsk, which is some 1,200km distant.
And there was a different view from Omsk. Vladimir Krupko, head of the city's planetarium, said: 'I am 100% sure it was a launch. I saw a ring and a moving cloud. Most probably, it was the engine's discharge.
'Given the direction, could be from Plesetsk (in northern Russia), but I can't find information about any launch, there is information only about a launch of a military satellite from Plesetsk in the afternoon.'