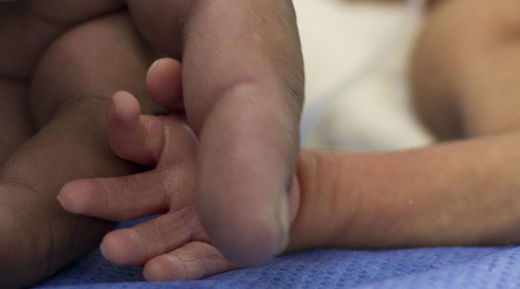 A 10-week old baby, born prematurely, died after his parents and sister were evicted from social housing in Warwickshire following the withdrawal of tenancy support, a serious case review has found.
"John," who was ten-weeks old, died on the night the family was forced from their home in September 2013.
He died during the night while sharing his grandparents' sofa with one of his parents, Warwickshire Safeguarding Children Board (WSCB) said.
A
serious case review
into the incident found the eviction had taken place after the social housing agency had withdrawn the family's tenancy support.
The damning report also ruled a wide range of organizations and state agencies "could have done more" to help the family handle the eviction.
Agency responses were sometimes "superficial and do not always get to the heart of what the issues are, and therefore do not fully address risk," the report said.
It said the mother's ongoing recovery from a caesarean section had not been sufficiently taken into account, nor were the needs of her younger daughter who suffered from a developmental delay.
The report's independent author Joanna Nicolas said there was some confusion among agencies who assessed the child.
"The agencies working with this family had not fully understood the issues at the heart of the case, and could have done more to mitigate the impact of the family's eviction.
"The report also found that there was confusion about the extent of the lead professional's role during the child's assessment period."
WSCB chair David Peplow said agencies could learn "important" lessons from the case.
"This is a deeply saddening case and on behalf of the board we express our heartfelt sympathies to the family for the loss of their child.
"A number of agencies were in contact with the family and, although child protection issues were not a causative factor in John's death, we feel that there is important learning for all agencies from this case," he added.
Figures published by homelessness charity Shelter at the start of the year warned that 3 million households across the UK fear missing mortgage or rent payments.
The research found that an overwhelming 60 percent of Britons struggled to cope with their monthly housing costs in January.
Earlier this month, Prime Minister David Cameron unveiled plans to tackle the Britain's housing crisis by changing planning regulations and providing 200,000 discounted 'starter homes.'
The policy was criticized by Eileen Short of campaign group Defend Council Housing, who told RT it will divert funds away from the vulnerable families.
"These proposals will make things worse for renters and all those in housing need. Diverting help and funds towards those most able to buy, will leave the 4.5 million on waiting lists, the homeless families, and all those living in insecurity, damp and overcrowding without any help.
"We have to stop this government's housing plans which are damning a whole generation," she added.