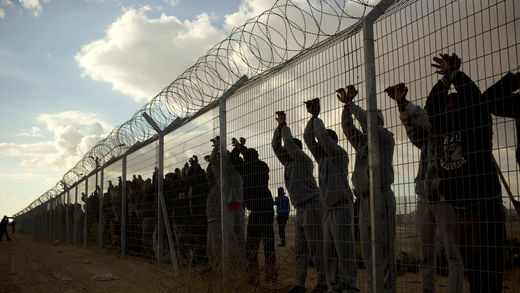 The recent release of 1,200 prisoners from a detention center in the Negev Desert is not a signal that Israel is rethinking its harsh treatment of refugees. Thousands of immigrants still face a choice between imprisonment and repatriation to their war-torn countries.
Some 65,000 African refugees are believed to currently live in Israel. In May, The Washington Post reported that
Israel sent letters to 45,000 refugees from Sudan and Eritrea
,
offering them a choice: They could accept accept a cash payment and a one-way ticket back to Africa, or they could go to prison
. Israel also began construction of
a massive fence to prevent the entry of more refugees
this year.
In February,
Amnesty International strongly objected
to the treatment of African refugees in Israel, both in and out of detention:
"Asylum seekers were prohibited by law from taking paid work and had little or no access to health care and welfare services. Meanwhile, the authorities pressured many to leave Israel 'voluntarily' under a process that paid them to withdraw their asylum claims and return to their home countries or travel to third countries. More than 5,000 Eritrean and Sudanese nationals were reported to have accepted 'voluntary return' in the first 10 months of the year, some leaving after facing imminent risk of detention, despite fears that they faced persecution or torture in the countries from which they had fled."
Despite being recognized by Amnesty and the world community as refugees in need of aid, Israel labels them "infiltrators," stemming from the 1954 "Prevention Of Infiltration" Act.
As
MintPress News reported in February
, the law allows refugees to be automatically detained if they can not, for humanitarian reasons, be deported. For thousands of these refugees, their destination on arrival is Saharonim Prison, where they can be held for up to three months, and then on to Holot Detention Center, where they can again be held for an extended period of time.
Both facilities and a handful of others are located in the harsh, remote Negev Desert.
Built in 2012 and designed to hold up to 8,000 immigrants
, human rights activists believe Saharonim to be the biggest facility of its kind in the world. Holot can hold an additional 2,000 immigrants.
In August, Israel's High Court ruled that refugees could no longer be held in Holot for longer than one year, which triggered the release of some 1,200 inmates. However, the visas under which they were released forbade them from residing in Eilat or Tel Aviv, the cities where the majority of the refugee communities currently reside, according to
a report from +972 Magazine
, a web magazine devoted to analysis of issues relating to Israel and Palestine. Prisoners who refused to leave Holot because they had nowhere else to go were threatened with imprisonment at Saharonim Prison.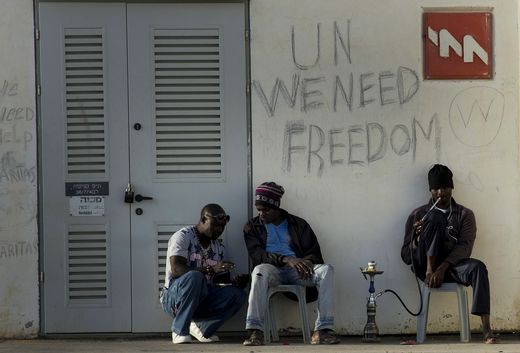 In September, Qantara.de, a web portal funded by the German Foreign Office dedicated to creating dialogue about the Middle East,
interviewed Nor Tok, one of the newly released refugees
:
"'I have friends in Tel Aviv that could help me, but I′m not allowed to stay there. And I′m broke' Nor Tok said. Detainees can leave Holot during the day, but must report to the facility for a 10 pm roll call and are not allowed to work.

The Sudanese and Eritrean communities have called the neglected neighbourhoods of South Tel Aviv home for nearly a decade. Some used to work in the tourism industry in the Dead Sea city of Eilat.

'The idea of Holot is to break people′s spirit. Make their life miserable, sign and go back,' Nor Tok said."
The web portal also reported that under new, expanded rules, more refugees than ever can be imprisoned in Holot:
"Every male refugee without a family in Israel is now eligible for detention."
On Tuesday, Yardena Schwartz, writing for
Newsweek
, pointed out
the contradictions in Israel's origins and its current treatment of refugees
:
"The irony here is that it was the international failure to assist Jews during the Holocaust that led to the 1951 United Nations Refugee Convention, the first international agreement addressing the rights of refugees and states' obligations to them. Today, 148 nations are signatories to this legal document, vowing to never again turn their backs on those fleeing persecution and genocide."
That irony seems lost on Israeli officials, who continue to treat refugees as enemies, Schwartz reported:
"Israeli officials and the media routinely disparage non-Jewish African asylum seekers.

In August, Israeli Interior Minister Silvan Shalom declared, 'I will not relent until we reach a framework that will allow the removal of the infiltrators from Israel.'"