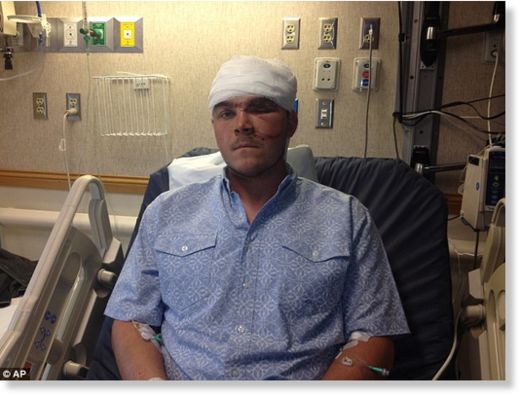 A bow hunter looking for elk in Montana escaped death when he thwarted a grizzly bear attack by sticking his arm down the animal's gullet.
Chase Dellwo, 26, was with his brother Shane near the town of Choteau when he went off by himself and tried to scare a herd possible targets towards his hunting partner.
However, he soon found himself three feet away from a 400-pound grizzly.
Dellwo was bitten on the head and leg, but survived and made it back to his brother after remembering a curious fact about the bear's anatomy.
"I remembered an article that my grandmother gave me a long time ago that said large animals have bad gag reflexes,' Dellwo told the
Great Falls Tribune
'So I shoved my right arm down his throat'.
The hunter had been carrying his bow with him when he encountered the wild animal, but said that he didn't have time to step back and draw the weapon before being knocked down.
Despite being disoriented after fending off his attacker, Dellwo somehow managed to make it back to his brother.
The pair sped 20 minutes to the Benefis Teton Medical Center, and Dewoll was later taken to a hospital in Grand Falls, where he is still recovering.
Dewoll, who has previously had encounters with bears but never been closer than 20 yards, said that he will stop hunting for a while but will return when rifle season opens.
After receiving a swollen eye and stitches in his head, he is expected to leave the hospital for his home in Belgrade, Montana, in the next several days.
Yellowstone National Park, which is on the other side of Montana and is shared with Wyoming,
was previously the site of a fatal grizzly bear attack earlier this summer.
The mother grizzly, which mauled hiker Lance Crosby, 63 to death before his body was discovered in August, was later euthanized.
Those hunting or hiking in bear country are urged to bring bear spray in case of encounters.