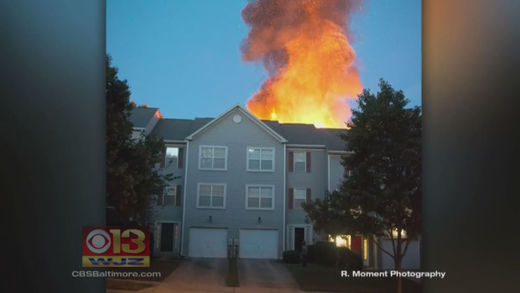 Authorities condemn six townhouses in Columbia after a massive fire and explosion Wednesday night.
Mike Hellgren reports for WJZ.
The blast blew the top floor off of one house. And neighbors thought a plane hit the neighborhood.
"We heard a big bang," said one neighbor, Jim Parks. "When we opened the shades, the home insulation looked like snow coming out of the sky."
Authorities say a gas leak started the fire.
No one was inside of the home at the time.
Neighbors said they smelled gas and called Baltimore Gas and Electric.
The BGE worker who was later injured had warned people to get out after arriving on the scene. The explosion happened about two minutes later.
"We heard yelling and screaming to evacuate," said Parks.
Maria Hogg of Howard County Fire and Rescue said gas and electric has been shut down for the entire block for safety precautions.
Sources say investigators are looking into whether something bumped into an exposed gas line causing the incident.
"It was most definitely a gas leak," said Hogg, "but we're looking into what lead to the explosion."
Many that lived nearby are glad they survived, but they still want answers.