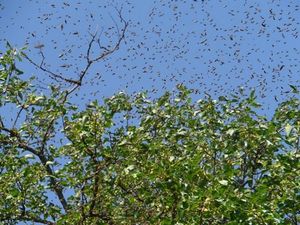 Six residents were injured when thousands of bees swept through an Arizona neighborhood, firefighters said - including a three-year-old boy who was stung up to 100 times.
When rescue crews arrived on scene in Gilbert, a small town to the southeast of Phoenix, the huge swarm made it difficult for them to get to the injured, Deputy Chief Michael Connor of the Gilbert Fire Department told NBC News.
The three-year-old was stung anywhere between 75 and 100 times and had been "rushed to hospital," he said.
A 14-year-old girl and 22-year-old woman from the same house were also hospitalized, according to
NBC station KPNX
.
To reach the boy and his family, firefighters had to go through the backyards of homes from one street over and the crews used ladders to make it over fences, the station reported.
Update: street has opened. 6 total patients, 4 taken to hospital. A firefighter was also transported.

— Gilbert Fire Rescue (@GilbertFireDept) September 23, 2015
A firefighter was also injured but he was treated at the scene along with two others with minor injuries, Connor said, adding that
he had never seen such a big swarm,
he said.
Police also made reverse 911 calls to residents in the area advising them to stay inside and close any open windows or doors, until the scene was secured.
Eventually, firefighters were able to overcome the bees using fire suppression foam, Connor said. They believe the bees had a hive in a tree on a front lawn.