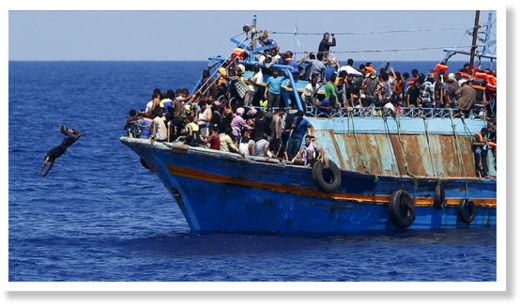 The European Union has approved military action against human traffickers in the Mediterranean Sea, AFP reported, citing sources. The authorities plan to seize and destroy vessels to break up networks operating out of war-torn Libya.
In June, the EU launched European Union Naval Force Mediterranean (EUNAVFOR Med) "to undertake systematic efforts to identify, capture and dispose of vessels and enabling assets used or suspected of being used by migrant smugglers or traffickers." Now it will be allowed to stop and if necessary destroy boats which are used to carry illegal migrants.
"The conditions have been met" to launch the new phase of the military operation, one European diplomat told AFP.
However, the second phase of the operation, which was approved Monday, still restricts EU NavFor Med to action in international waters. The third phase would involve military action against people smugglers inside Libyan territorial waters, aiming to destroy their boats and networks before they set sail, AFP reports.
Earlier, the International Organization for Migration (IOM) said that record number of asylum seekers had crossed the Mediterranean in 2015 so far.
According to the agency, 432,761 migrants and refugees reached Europe by sea, which is more than double the total for 2014.
The "vast majority of arrivals" were registered in Greece (309,356 people) and Italy (121,139 people), the IOM said.
A total of 2,748 asylum seekers died while crossing the Mediterranean, according to the agency, adding that the Channel of Sicily "is notoriously the deadliest route in the Mediterranean Sea."
According to Robert Сrepinko, head of the organized crime unit at Europol, "the number of criminal activities is growing with the same speed as the number of illegal migrants." He added that many of the traffickers used to smuggle illegal drugs, but have shifted their focus to people since the refugee crisis began.
A recent report by the Washington Post revealed that smuggling network is prospering amid refugee crisis. Smugglers offer their help to those fleeing war and persecution at a significant cost, thus taking advantage of the asylum seekers' situation.
The options which are offered to refugees by smugglers vary from a simple RV journey over a bridge to a plane that will fly refugees directly from Turkey to Sweden.
"As a global criminal enterprise, it is very lucrative," Patrik Engström, head of the Swedish national police's national border policing section, told the paper.