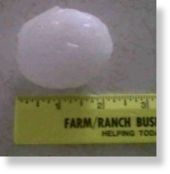 The Pierre-Ft. Pierre Area was hit by a Thunderstorm early last evening that deposited a lot of rain in a short time. It also had pea to
golf ball size hail in the Pierre Area.
One public report from Ft. Pierre near the Dunes Golf Course
had hail the size of baseball's reported.
There was some short time minor flooding on Sioux Avenue during the course of the storm but damage was listed as minor although vehicles and windshields were the worst hit.
There is at least one report of a back windshield of a vehicle in Pierre broken out. Pierre officially received .18 hundreths of an inch of rain although amounts vary throughout the City.