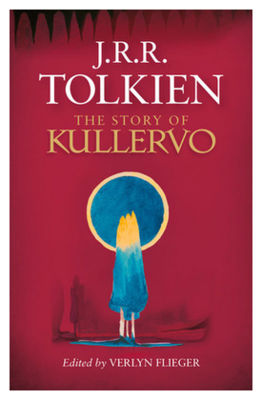 The Story of Kullervo,
a character from Finnish mythology, was the first work of prose written by JRR Tolkien a hundred years ago. It has now been made public for the first time.
This week, Tolkien's first story was published in the UK by Harper Collins. The unfinished work is essentially a retelling of part of a Finnish epic poem, Kalevala, a 19th century compilation of authentic Finnish and Karelian oral folklore and mythology.
The 26-page story was written by then-Oxford student Tolkien exactly a century ago in 1915. Although it was left unfinished by the author, it apparently appeals to all Tolkien fans as it is his earliest work of prose, an early experimental story that was followed by the celebrated
Lord of the Rings
.
It was also one of Tolkien's darkest works, as the publisher of the book, Tolkien scholar Verlyn Flieger of the University of Maryland, puts it. The importance of Kullervo, the protagonist, to Tolkien is demonstrated in the following citation.
"I was immensely attracted by something in the air of the Kalevala," Tolkien wrote 1955 in a letter to WH Auden, as quoted by the Guardian. "I never learned Finnish well enough to do more than plod through a bit of the original, like a schoolboy with Ovid ... But the beginning of the legendarium ... was in an attempt to reorganise some of the Kalevala, especially the tale of Kullervo the hapless, into a form of my own."
Kullervo, Tolkien's very first hero, was the only tragic character in Finnish mythology. After surviving the massacre of his whole tribe and family, he was brought up in the house of his enemy, a dark magician named Untamo, and later sold into slavery, where he faced abuse.
Later he unwittingly seduced his twin sister and in the end kills himself with a magic broadsword. Kullervo possesses strong supernatural abilities and is guarded by a magic dog, Musti.
The Finnish mythology of Kalevala and even the Finnish language attracted and inspired Tolkien, critics say, and had a lasting impact on JRR's creative works.
"Tolkien liked the fact that this was a national myth. He wished that England had something similar. Britain had Celtic stories but England had not preserved its mythology.
With
The Lord of the Rings,
he wanted to give England its own Kalevala," Prof. John Garth of the University of Nevada, Tolkien's biographer, told the BBC.
Previously, the Story of Kullervo, a pencil-written manuscript kept in the Bodleian Library in Oxford and copied by Verlyn Flieger, appeared in an academic journal in 2010.
"I began to think that it deserved a wider audience than subscribers to a scholarly journal," Flieger said. Permission was given by the Tolkien estate after some consideration.
The Story of Kullervo
was released in the UK and online on August 27th, and is scheduled to be published in the US in two months.