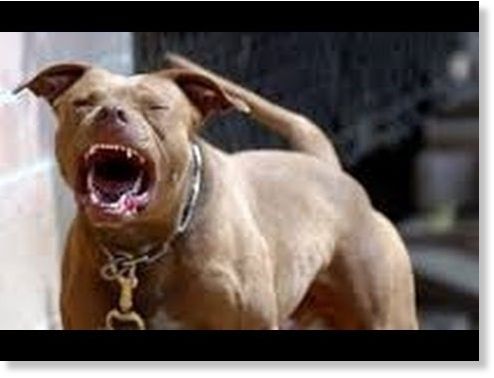 Evansville police shot and killed two dogs that were part of a larger pack that attacked and bit several people Saturday afternoon.
Terri L. Jackson, 30, was one of the victims.
"I was just walking down the street. There were like five dogs across the street. ... One of the dogs ran up to me and started barking," Jackson said.
She didn't think anything of it and kept walking along South Linwood Avenue around 5 p.m. Saturday.
"Then the dog bit me on the back of my leg," she said.
The dog, an "aggressive" pit bull, tried to bite her again, but a neighbor came at the dog with a large stick as a distraction.
Jackson lay bleeding from the wound as the neighbor fended off the dog.
By the time Animal Control was called, the dogs already had caused three injuries. The dogs also tried to attack an Animal Control officer.
When police arrived, the dogs were inside their home at 1654 Linwood Ave. According to police, the door was wide open.
Police went into the home and found the dogs, one of which was in the backyard. While inside the home, officers fired at least nine shots which hit and killed two dogs.
"All avenues were exhausted prior to the decision to use lethal force on the dogs," wrote officer Corey Nutt in a department incident report.
Animal Control took custody of the other dogs.
Police located the dogs' owners, who were not on scene during the reported attacks. Police identified the owners as Tamika M. Dunn, 33, and Phillip R. Black, 31. Attempts to contact Dunn were unsuccessful Saturday.
Dunn and Black could face criminal charges.
An owner may be charged if they fail to take reasonable steps to keep his or her dog from biting someone off their property. Charges can range from low-level infractions to midrange felony charges depending on the circumstances of an incident.
The city does have leash and containment laws: dogs are not allowed to run the streets at large freely, even with supervision. A dog can only run freely on private property in the city within a fence or some other proper enclosure.
State law also states owners can be held liable for damages from dog bites.
Jackson's dog bite wound needed a single stitch, but she said the wound made her walk with a limp Sunday.
She said the dogs also have chased her nieces and other neighborhood children who riding on bikes. They weren't injured, she said.
Jackson lives near where the attack happened.
"There are always dogs roaming around the area, and it's never been an issue before,"
she said.