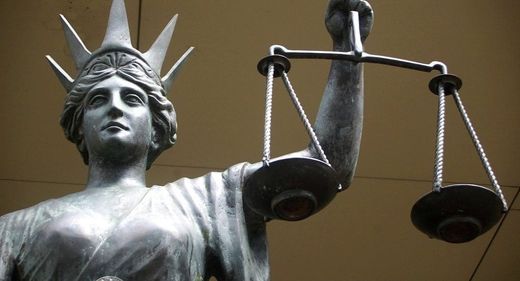 The former deputy chief of staff of ousted Ukrainian President Viktor Yanukovych is to front the European Court of Justice, suing the European Commission for a range of sanctions imposed against him, which saw him banned from entering the EU, and some of his assets frozen.
Andrey Portnov, whose sanctions imposed by the EC were lifted in March, is taking European officials to court, arguing that he shouldn't have been sanctioned and penalised in the first place, while warning that Ukraine's current government should be concerned about prosecution for malpractice.
Portnov was one of 22 officials, including former Ukrainian President Yanukovuch, who was banned from entering the EU, and who had assets in European Union member states frozen.
The reasoning behind the 28 member states' decision to impose sanctions on the officials was because they were "subject to criminal proceedings in Ukraine to investigate crimes in connection with the embezzlement of Ukrainian state funds and their illegal transfer outside Ukraine."
In other words, Yanukovych, Portnov and others were accused of misappropriating Ukrainian state funds for personal use.
Where's the Money? Questions Raised Over Fraud Investigations
Despite the allegations against Andrey Portnov and others, there has been little evidence backing the accusations that these funds were acquired by illegal and corrupt means.
The Ukrainian Prosecutor's Office claims to have identified $15 billion (300-billion hryvnia worth of assets misappropriated by senior officials, and says that Ukrainian authorities have managed to freeze about $1.4 billion of this.
However, despite the large figures of allegedly misappropriated funds, only a tiny amount of about $250 has been confiscated so far.
The investigators' lack of success in proving the funds were illegally embezzled and smuggled out of the country has drawn into question the legitimacy of the sanctions
and asset freezing measures imposed on officials connected to the former Ukrainian government.
"
The arrest [of assets] looks beautiful for the media, for support, and as a public relations stunt,
but has no correlation with the real result," Vitaliy Shabunin, head of the Anti-corruption Action Center, a nongovernmental organization specializing in anti-corruption investigations and asset tracing, told Radio Free Europe.
Comment:
Yanukovich voted "no" to the EU Association Agreement, which would have
severed economic ties
between Ukraine and Russia and left Ukraine in a world of hurt. Well guess what happened after the coup? All this nonsense about a crackdown on "corruption" is just more smoke and mirrors.
Ukrainian law states that assets can only be recovered and confiscated if an official has been convicted of an economic crime, sparking questions about when, or if any senior officials will be prosecuted in relation to the allegations.
A 'Politically Intended Criminal Prosecution'
Despite having his sanctions lifted, Andrey Portnov says he is determined to take the case to the European Court of Justice and make a stand against what he believes was the illegal imposing of sanctions on himself and others.
"Very soon, I am not only going to prove that the actions of the Ukrainian authorities were illegal but also a breach of European standards by those in the European Union who used the information provided by the Ukrainian authorities."
In an open letter to the EU in January, appealing for his sanctions to be overturned, Portnov said he was determined to "restore my reputation" — labeling the accusations of money embezzlement as a
"politically intended criminal prosecution by the Ukrainian police authorities by falsification of criminal case files and spreading false accusations against me."
Comment:
Portnov's letter to the Council of the EU is
here
.
He also said that attention should be paid to the financial activities of members of the current Ukrainian government, accusing officials of embezzling money overseas themselves.
"I think that the Ukrainian authorities, starting with government members and finishing with the president, need to watch their own Internet banking closely," Portnov told RTE. "What offshore accounts are they using? How are they signing agreements in offshore jurisdictions?
"When the time comes, we will find the assets the current government is hiding abroad, and it will be the subject of a criminal prosecution," he said.