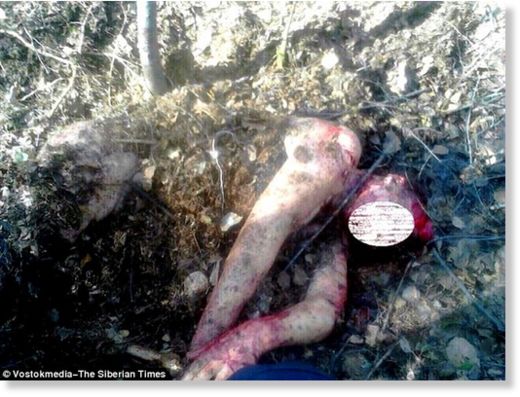 A Russian woman has been buried alive by a bear which was apparently saving her for its next meal after attacking and seriously injuring her.
Mother-of-two Natalya Pasternak, 55, had a miracle escape after her friend managed to flee the forest near Tynda in the Amur region and raise the alarm.
Having left her with serious injuries, the bear mistakenly believed the postal worker to be dead and partially buried her beneath a pile of leaves - apparently planning to return later and eat her.
But having been rescued alive, the woman is now fighting for her life in nearby Tynda Hospital.
A shocking photograph taken by police shows Mrs Pasternak lying under the pile of foliage where the bear had buried her. Here clawed and bloodied arm is visible in the picture.
The bear pounced as the woman and her friend were collecting birch sap in a forest near Tynda, which is located in the far east of Russia.
The woman's dog barked before the attack, apparently sensing the danger, but it was too late and both she and the pet were overwhelmed by the wild animal.
'The bear evidently thought the woman was dead and sought to bury her and hide its prey, apparently saving its next meal,' reported
The Siberian Times.
When rescuers arrived at the scene, the bear attempted to attack them too.
In order to save the woman's life, the group had no choice but to shoot and kill the highly-aggressive four year old female.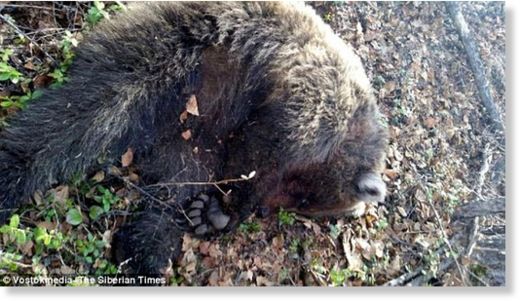 After killing the bear, the rescuers noticed the woman's arm, bloodied from claw wounds, jutting out of a pile of leaves and sticks.
Mrs Pasternak was still 'alive and conscious', despite her serious injuries. Her first question to the rescuers was: 'Have you killed the bear?'
The 55-year-old suffered serious scalp and thigh wounds, and remains in a state of 'deep shock'.
Doctors at Tynda Hospital said she is still in a 'severe' condition, with her two adult children at her bedside.