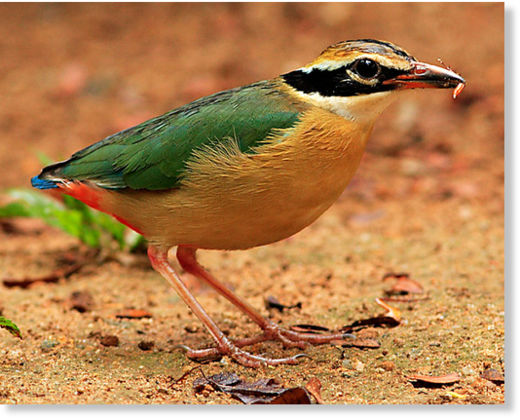 Indian pitta and black-naped oriole, two species of migratory birds from the Himalayan region, have extended their stay in the Grizzled giant squirrel sanctuary in Srivilliputhur.
Sighting of these rare birds were recorded during a bird census last Saturday and Sunday.
Bombay Natural History Society member S Chandrasekar, who took part in the census, said
normally these birds stay till the end of March.
When temperatures soar, they return to their habitat after nesting and roosting.
This time they are hanging around. We need to study the reasons.
Five species of birds have been recorded during the census, the other three species being the Wayanad laughing thrush, yellow-throated bulbul and Malabar trogan. A decade ago it was considered that the yellow-throated bulbul was purely an Eastern Ghats species. Sighting of this bird last week in the Western Ghats has opened new possibilities of studies. Similarly, the sighting of Malabar trogan was reported from camps set up in high altitude areas.
All the five species were not recorded in last year's census.
Madurai Nature Forum coordinator N Raveendran, who covered Mudaliyaroothu in the sanctuary, said his team sighted great-pied hornbill, fishing eagle and black eagle in Sithathu Kaavu and Vattappaarai, located in higher elevations. "Sighting of these birds in such higher elevations indicates that the forest areas and the ecosystem in this region are flourishing well along with the birds," he said.
Mudaliyaroothu, located at an elevation of 1,200m in the Srivilliputhur range, and Kottamalai at an elevation of 900m in the Saptur range in the sanctuary are the two important places where good bird population has been recorded during the census. A total of 15 camps have been set up in the elevated areas, and 35 volunteers including students from various colleges and professionals participated in the census, he added.