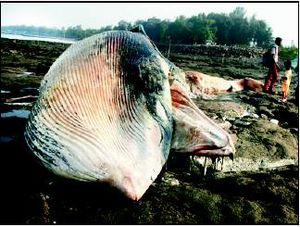 A 20-feet-long humpback whale was washed ashore in two parts near Danda village in Uran on Monday. A dead turtle of 2.5-feet diametre was also found in the vicinity.
"The whale's body was decomposed. It must have been in the sea for many days, which is why it was also broken into two," said Bharat Patil, a local.
Marine biologists said that a humpback whale has been spotted off the Uran shore after three years. Earlier, in April 2012, a 40-feet-long humpback was found dead on the Pirwadi beach of Uran.
Marine life specialist D Stalin said excessive fishing and movement of too many fishing and commercial vessels in the Arabian Sea pose threat to humpback whales, dolphins and sharks. They can be fatally injured by high-speed boats and their big propellers. "Our government has not given any serious thoughts on their preservation. Oceans are an important feature for survival of life but we continue to abuse marine zones," he said.
In 2012, two more dead whales were found on the coast of Mumbai and Raigad. Experts said it was likely that the same family of humpback whales were fatally injured by the propellers of a barge or a ship. Even in the latest case, the humpback could have been hurt by a passing ship.