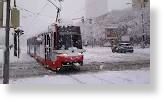 An official in Slovakia says heavy snow has forced the closure of the international airport in the capital.
Veronika Sevcikova, spokeswoman for Bratislava's M. R. Stefanik Airport, says all outgoing flights have been canceled, while the incoming flights have been diverted to airports in neighboring Austria and Hungary.
Sevcikova says one incoming flights have been diverted to Linz, Austria, and three others to Budapest, Hungary.
She says it is not clear when the airport might be reopened.

The snow has caused traffic disruption and road closures all across the country Friday.
Source: Associated Press