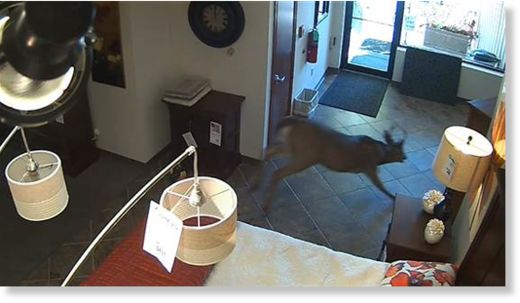 The owner of an Iowa furniture store said security cameras recorded a deer running buck wild through the store before leaving through the back door.
Deb Emmert, owner of Simpsons Furniture in Cedar Falls, said the store had just opened Saturday when the buck
crashed through a window
and started running around the store.
Security camera footage shows the deer running among the furniture before using his antlers to push open the back door and make his exit.
"They go, 'Deer! Deer! Deer!' And they go, 'Get out of the way!' And I'm just like ... I didn't know which way to go to get out of the way of the deer," Emmert said. "We're just laughing. We're just laughing, especially when we saw him just nonchalantly opened the door and was like, 'OK, done with my shopping.'"
There were no injuries from the deer's shopping trip Saturday and the store remained open while a crew cleaned up the mess.