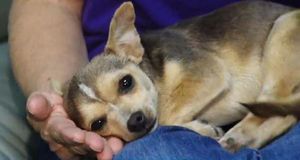 Larry McHale charged with animal cruelty for allegedly throwing a Chihuahua against a Starbucks window, breaking its leg.
A Houston man was charged with animal cruelty after he allegedly threw a 4-pound Chihuahua at a Starbucks window.
Witnesses said the man, Larry McHale, was causing a commotion around 9:30 p.m. Tuesday outside the Starbucks coffee shop, from which he had been banned the last three months.
One witness said McHale yelled and smashed a bottle on the ground.
"He harasses customers every time. He comes in and starts chaos," Starbucks manager Jasmine Hyder told KHOU-TV, Houston.
He then allegedly picked up a Chihuahua and threw it against the restaurant's window.
"It was so loud, the window sounded like it was going to break," said Starbucks manager Jasmine Hyder. "He's like, 'you don't care about humans. You only care about a dog.' "
McHale was arrested and the dog was taken to the city of Houston's Animal Shelter and Adoption Facility.
The dog, now dubbed "Starbucks", sustained a broken back leg and needs surgery to fix it.
"Why would you do this to a little dog? This dog never hurt anyone, but we're going to save her no matter what he did," said Nela Brown with Frisky Paws Rescue.