The chilliest air of the season so far will settle over much of the Northeast Thursday into Friday and will bring frost to more areas than experienced frost early this week.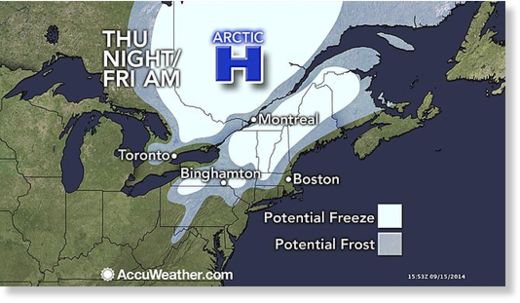 The pattern through this week will bring cooler-than-average temperatures to the region with a reinforcing push of cool air forecast to settle in Thursday night and Friday.
Where skies become clear and winds diminish Thursday night over the interior, the stage will be set for a frost and even a freeze in the coldest locations.
According to Canada Weather Expert Brett Anderson, "The air mass moving in late this week has originated from the Arctic and record lows will be challenged from Ottawa to Montreal and Quebec City."
While record lows are not likely to fall along the I-95 corridor from Boston to New York City and Washington, D.C., temperatures may dip to their lowest levels since the spring and surpass the chill from a few days earlier. Record lows during the middle of September in the I-95 Northeast are typically in the lower to middle 40s F.
In portions of northwestern New England, upstate New York and northern Pennsylvania, the growing season may come to an end. Low temperatures in the lower 30s are forecast for much of this area, with the coldest rural areas, away from lakes and rivers, likely to dip into the 20s.