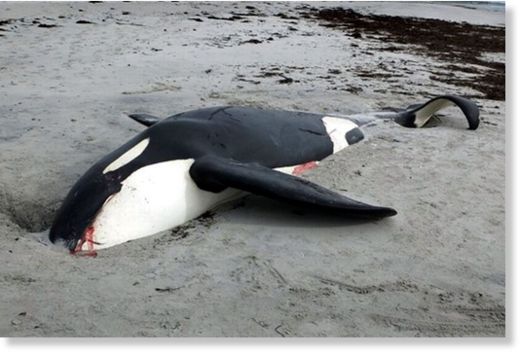 The 6.5 metre specimen was spotted on Monday on the Isle of North Uist off the north-west coast of Scotland
A killer whale thought to belong to the UK's only native orca pod has been found dead on a beach.
The 6.5 metre specimen was spotted on Monday partially buried in sand on the Isle of North Uist, off the north-west coast of Scotland and the cause of death is still a mystery.
Islanders have suggested that it may be a member of the orca family which is frequently sighted following herring shoals around the Scottish coast.
Photos posted to social media shows the carcass to be intact, and seemingly undamaged by contact with boat propellers, leaving the cause of death unknown.
Artist Jac Volbeda, 59, from Baleshare, North Uist, said the killer whale was still fresh when he found it a few kilometres from his B&B.
Jac said: "I got a tip that there might be an orca not far from where my B&B is in Baleshare, so I went out to have a look.
"It was half-buried in the sand about 2km away from where we live and was definitely dead when I got to it, the tide hadn't carried it away.
"It's not a very big one as it's only about six-metres in length, which isn't that long for an adult but it's still a real shame as it's the first time I've ever seen one washed up here."
"In the past we've seen a lot of dolphins and porpoises wash up here, as well as pilot whales, and in 2011 we had a 10-metre-long sperm whale on the beach which they ended up burying in the sand.
"We are quite exposed on the island, but even when there are storms here they don't have any difficulties in managing with the heavy surges.
"It's half buried in the sand and there's no drag marks on the beach nearby so I'd say it was dead before it reached the beach and was carried in by the high tide.
"There is a small group of killer whales that are known to live off the west coast of Scotland, so it may be one of them."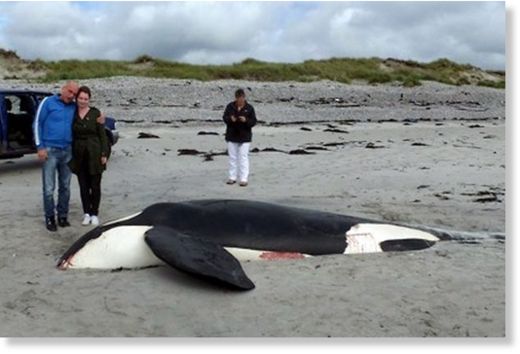 Orcas are highly social mammals belonging to the oceanic dolphin family which typically feed on fish shoals, seabirds and seals.
Last year marine experts estimated that less than 10 orcas remain in Scottish waters and that no live calves had been produced in more than two decades.
Scientists from the Scottish Marine Animal Stranding Scheme (SMASS), which surveys strandings and the cause of death of marine life on Scottish beaches, are currently on their way to North Uist.
Dr Andrew Brownlow, veterinary pathologist for SMASS, said the group would not be able to determine whether the orca belonged to the known group until samples had been taken.
Andrew said: "Until we have images of the dorsal fin, and the patterns on the saddle patch on its back and around its eyes we won't be able to say which group it belongs to.
"At the moment we can't tell if the individual has been identified before but we should be able to determine that when we get to it.
"From what we've seen in pictures it looks quite thin so we are interested to determine whether that may have been because of disease or whether it was the result of trauma."
It's not the first time sea creatures have made an unexpected appearance on the UK coast.
On Tuesday dolphins were spotted performing acrobatics near to a beach in Cornwall.