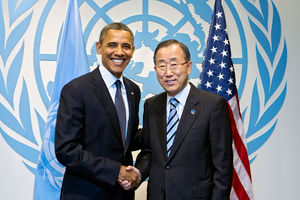 Ukraine's coup-empowered president, Aleksandr Turchinov, has proposed to conduct a joint operation with UN peacekeeping forces as he signs a decree immediately imposing a special anti-terrorist operation in the east of the country.
In a phone call with UN Secretary-General Ban Ki-moon, Turchinov said that Kiev's new authorities would welcome "if, with your help, there will be conducted a joint anti-terrorist operation in the east of the country. Then, specialists and observers will be able to confirm the legitimacy and legality of our actions," the press office of the Batkivshchyna (Fatherland) party quoted Turchinov as saying.
On his part, Ban Ki-moon said that Kiev could rely fully on help from the UN as its partner.
Late Monday afternoon, Ukraine's coup-appointed President Aleksandr Turchinov signed a decree to officially begin a "special anti-terrorist operation" in the east of the country, Ukraine's presidential press-service said in a statement.
Turchinov has appointed acting Secretary of the National Security and Defense Council of Ukraine, Andriy Parubiy, to oversee the operation.