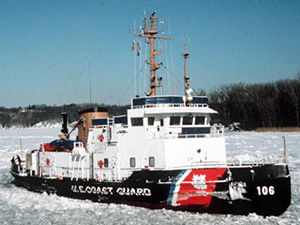 Ice is still four, five, even eight feet (2.4 m) deep in places.
"This is delaying the start of the shipping season," says reader Greg. "The last shipping season came to an abrupt end and the local steel mill was forced to truck in raw materials instead of by the usual and much less expensive lake freighter method."
Duluth, Minnesota (28 Mar 14) - The start of the 2014 shipping season has ground to a near halt by some of the worst lake ice in recent history.
The
Presque Isle
freighter and the
Morro Bay
cutter have sustained damage from the powerful ice and are being forced to return to the Twin Ports for repairs.
The Morro Bay
is a 140 ft (42.7 m) long "state of the art" icebreaker, according to the U.S. Coast Guard.
Ships took off last week to try to make it to the Soo locks, planning to hug the shore to take advantage of the open water.
A flotilla of US Coast Guard cutters has been working overtime to break ice and clear a path for outbound ships.
But ice four to five feet thick is still abundant on Lake Superior; in some places ridges of eight feet of ice have formed.
And even though there is some open water, wind can blow the ice back into the channel.
Not only the
Morro Bay
, the
Mackinaw
(another icebreaker) and the
Katmai Ba
y (yet another icebreaker) were attempting to clear the way for the
Presque Isle
.
See
video