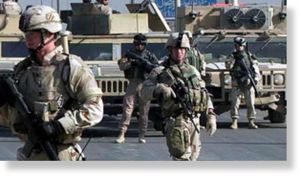 The US Justice Department has filed a lawsuit against certain American and foreign companies for defrauding the US Army between the years 2003 and 2004.
According to the suit, US troops deployed to Iraq during that time were fed ice shipped in unsanitized containers which were used as temporary morgues.
KBR and two foreign companies used "refrigerated trailers to transport ice for consumption by the troops that had previously been used as temporary morgues without first sanitizing them," the suit states.
"Sometime around July 2003, while [refrigerated trailer] R-89 was being used as a morgue, the refrigeration motor broke down, leading KBR to send it back to Kuwait for repairs," the suit adds.
But in late August 2003, KBR used R-89 to transport potable ice for troops stationed at Camp Matilda in Kuwait without properly sanitizing it.
The military contractors being sued include contractor Kellogg, Brown and Root, as well as Kuwaiti companies La Nouvelle General Trading & Contracting Co. (La Nouvelle) and First Kuwaiti Trading Co.
The companies are accused of receiving bribes and submitting misleading claims in connection with KBR's Army contract to supply logistical support in Iraq.
Three KBR subcontract managers have already admitted to making false statements or taking bribes up to $360,000.
The overall damage caused will be determined at trial, but under the False Claims Act, the US is entitled to three times the amount damages in addition to civil penalties of $5,500 to $11,000 for each violation.
KBR has been in the Justice Department's crosshairs before on several occasions. The Justice Department filed a $150 million suit against KBR in November 2012.