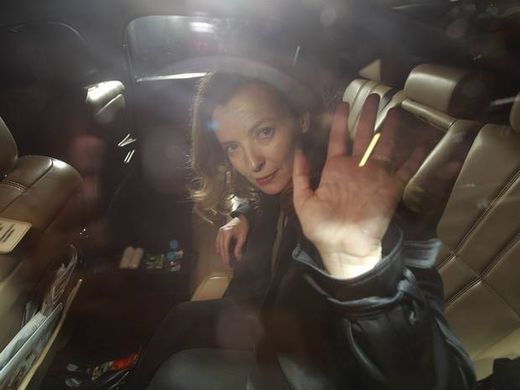 President Francois Hollande, the man who never married, is a bachelor again.
After ending his seven-year partnership with Valérie Trierweiler with a phone call to a French news agency on Saturday, the President plans to have no more live-in lovers at the Élysée Palace for the remaining 40 months of his presidency.
Friends assume that his relationship with the actress Julie Gayet, 41, will continue but that she will remain in her own apartment with her two teenage sons.
Ms Trierweiler flew from Paris to Mumbai today on a humanitarian visit, travelling as a "private citizen".
Some hope.
It emerged that Ms Trierweiler, 48, has negotiated a financial settlement with Mr Hollande to compensate for loss of status and her loss of earnings since she abandoned part of her journalistic career when he became president 20 months ago. It is believed that part of the agreement is a "gagging clause".
The couple are said to have parted "on good terms". But even friends of President Hollande, 59, have been surprised by the business-like manner in which he has dealt with his former partner since his love affair with Ms Gayet was exposed by
Closer
magazine.
One old friend, talking to the
Journal du Dimanche
, recalled Mr Hollande's similar behaviour when he had an affair with Ms Trierweiler while his partner, and the mother of his four children, Ségolène Royal, was running for president. "François lives in a state of denial," the friend said. "With Valérie, as with Ségolène, he denied having an affair for months. Then, when presented with a fait accompli,
he made his choice without much emotion
."
On Saturday Mr
Hollande
made a personal telephone call to
Agence France-Presse
to announce - l "as a private citizen, not as President of the Republic" - that his partnership with Ms Trierweiler was over. Ms Trierweiler refused to add her name to the statement. "Let him take responsibility," she told friends.