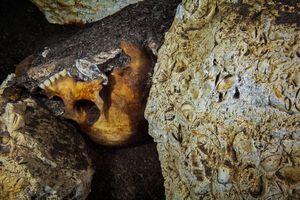 A flooded sinkhole in southern Mexico that terrifies local villagers has just been
explored by underwater archaeologists
, who found the submerged cavern littered with elongated skulls and human bones.
The underwater cavern, known as Sac Uayum, is a cenote located in Mexico's Yucatán Peninsula. A cenote is a natural pit resulting from the collapse of limestone bedrock that exposes groundwater underneath. They were sometimes used by the ancient Maya for sacrificial offerings.
Sac Uayum sits just outside the ruins of the ancient Maya city of Mayapán, about 40 kilometres south of Mérida, the capital of the Mexican state of Yucatán. Mayapán was a major political centre from the 12
th
to the 15
th
century AD and contained a city enclosed within a stone wall. Within the city walls, there were around 40 cenotes which would have served as vital sources of water for the 17,000 residents and may have even been the reason for the city to have been built there.
However, Sac Uayum is not a typical cenote and local legend says that the mysterious cavern is guarded by a feathered, horse-headed serpent. Older residents of the nearby village of Telchaquillo tell stories of people seeing the serpent perching in a tree, leaping up, spinning around three times, and diving into the water. In fact, the villagers do not want to go near the site and there is much fear surrounding what lies inside.
To investigate the cenote, archaeologist Bradley Russell and his team spent two weeks diving into its submerged reaches. Before they began, shaman Teodormio San Sores prepared a traditional ceremony called jeets' lu'um ("calming the earth") to ask the gods permission for the researchers to enter the cavern and to placate the legendary feathered serpent, who locals believe will snatch anyone who gets too close.
Read the rest of this article here.