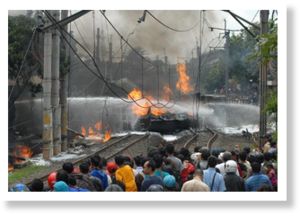 A commuter train hit a truck hauling gasoline in Indonesia's capital Monday, killing five people and sending a fireball of orange flames and black smoke shooting skyward.
The accident in southern Jakarta killed the train engineer, his assistant, a technician and two female passengers, said Jakarta Deputy Police Chief Brig. Gen. Sujarno, who revised the death toll down by two, explaining that police earlier thought the truck driver and his assistant had also died. They were instead among nearly 100 people injured, he said by text message.
Sujarno, who uses one name, said the fuel tanker truck was stopped on the rail tracks at a crossing and unable to move forward because of backed-up traffic on the road.
"A fuel truck ran onto the railroad tracks and the (train's) brakes could not stop it from hitting the truck. It exploded and bounced off," said Imron, a passenger who escaped from the train. "It happened so fast!"
A burned-out passenger car was seen lying on its side as plumes of black smoke billowed from parts of the engulfed train. It was headed to central Jakarta when it hit the truck carrying 24,000 liters (6,340 gallons) of gasoline.
About 500 passengers were traveling in the train's eight cars, and all train signals were working at the time of the crash, said train company spokesman Sukendar Mulya.
Two train cars derailed, including a women-only carriage, and hundreds of panicked passengers ran away, many screaming and crying. Rescuers pulled out three bodies pinned under the wreckage, said Sukarno, a firefighter. The cause of the accident is being investigated.
"My position was near the door, but I could not move because I was ... trampled by other passengers," Veronica, a commuter from the derailed women-only car who uses only one name told MetroTV. "We managed to escape after people from outside broke the windows. I saw many victims with burns on their legs, hands and stomachs."
She said that the carriage quickly filled with thick smoke, making it difficult to breathe.
The accident occurred near the site of a collision between two trains in 1987 that killed 156 people and injured hundreds more.
Commuter trains are often packed with passengers due to the lack of other forms of public transportation in Jakarta, which has some of the worst traffic jams in Asia.