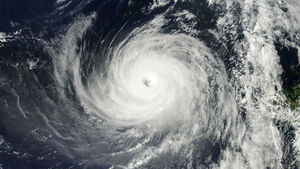 The operator of the Fukushima Daiichi nuclear power plant says water has overflowed 12 barriers around tanks holding radioactive water. Tokyo Electric Power Company says some of the water may have reached the ocean.
The utility says workers found water overflowing from five barriers Sunday afternoon. They found additional overflows in seven barriers Sunday evening.
TEPCO says the barriers are 30-centimeter-high. Some of them have already contained at least 20-centimeters of rain water. But workers can pump out only a couple of centimeters a day.
More than 100 millimeters of rain was recorded at the Fukushima Daiichi nuclear power plant over four hours on Sunday afternoon.
The operator of the crippled plant also says workers released some of the water accumulated inside barriers into the ground. The utility says the water met safety standards for radioactivity approved by the Nuclear Regulation Authority.