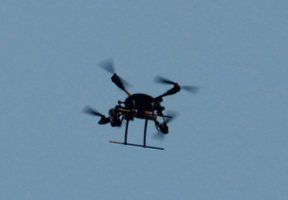 It wasn't flying for long and it's unclear what it was doing, but at least one witness spotted a drone hovering over a six-alarm fire at a warehouse in Alexandria, just miles from the
Pentagon
.
Robert Rapanut
of Alexandria said he was near the scene of the blaze that destroyed a warehouse in the 800 block of South Pickett Street when he saw an object rise. He took out a camera and photographed it.
"I just saw some black thing go up"
Mr. Rapanut
said. "It was up maybe two or three minutes. It hovered over the roof of the Red Lobster" a few hundred feet east of the fire.
Alexandria fire officials said the drone didn't belong to them.
"It's not ours," said
Robert Rodriguez
, chief fire marshal and spokesman for the Alexandria fire department. "It was none of our departments'," he added, referring to the three other fire departments that provided assistance in putting out the blaze.
A Fairfax fire department spokesman practically laughed when asked if the drone at the Monday blaze could have been theirs.
A law passed this year in Virginia placed a temporary moratorium on the use of drones by government agencies, except for situations in which lives might be at risk.
It would not be unprecedented to use a drone for an aerial view of a fast-moving fire. Officials last week deployed a drone to monitor the movements of a massive blaze in and around Yosemite National Park in California.
But reports of such uses - both real and potential - have generally been associated with wildfires.
Local officials said candidly that they had heard second-hand and third-hand reports of a drone flying briefly overhead and speculated that it might have been the property of a hobbyist.
Asked whether private citizens are permitted to fly drones in such conditions, Alexandria police forwarded the inquiry to the Federal Aviation Administration.
The FAA, which regulates private drone use the same way as it does recreational aircraft like model airplanes, says they cannot fly more than 400 feet above the ground, they must remain within the operator's sight and they cannot be used for commercial purposes.
Using them simply for a close look at a fire also would not be unprecedented.
Detroit cameraman
Harry Arnold
, for example, posts aerial footage to the Internet - including some video taken above fire scenes around the city.
He began filming fire scenes in May and took footage from a response in which several firefighters were injured by falling bricks. He said drones can be helpful even to city firefighters
"I had great shots of where the bricks were falling,"
Mr. Arnold
said. "I could see it was really precarious. If the firemen had that view, they probably wouldn't have put the ladder in the place they did."