Four families have not been able to return to their homes due to a giant sink hole caused by a water main break in South Philadelphia. It's at the middle of the intersection at 21st and Bainbridge. Crews say the sink hole is 15-feet deep.
"It's enormous," said flooding victim Marisa Block. "I heard sink hole and I was thinking something like three or four feet, nothing that big. It's the entire intersection!"
The 96-year-old, 48-inch transmission main broke at 9 p.m Sunday, according to a spokeswoman for the Philadelphia Water Department.
Crews worked through the night, where water flowed up to three feet high in some spots, as you can see in this NBC10 viewer photo.
On Monday, there was a gas leak at the same location, but authorities say it was quickly fixed.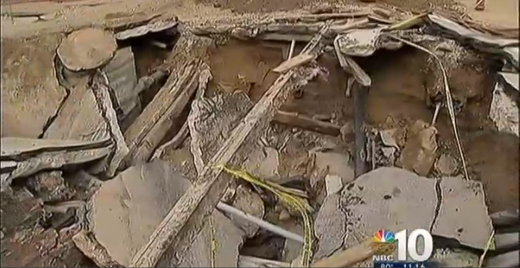 The Water Department says water should be restored and if you live in the neighborhood and don't have water, you should give them a call.
Road closures as of Monday include Bainbridge between 20th and 22nd and 21st Street from South to Fitzwater. Crews with the water department are asking people to avoid that area while the repair work is being done, which could take days.
hirty-eight residents were forced from their homes, but most are back home Monday.
"It was coming in through the drain pipe in my basement. There's a crack in the pipe so it was coming out the pipe onto the floor," said Jillian Thorton.
"When I opened up the doors and I saw the mud I already knew it was bad news," said flood victim Olade Olayinka. "My main concern is the hot water heaters and the furnace."
Crews were finally able to shut off the main around 1 a.m.
"Four hours from about 9 p.m. to about 1 a.m.," said flood victim Henry Bennett. "At 1 a.m. it started to slow down and they were able to open up the drains and get the water going down there."
"I was a little surprised that it took the water folks a little while to get down here," said flood victim Shaun O'Brien. "But more importantly I'm just happy we had running water this morning."
"Overall probably several million gallons of water were spilled into the streets," said John Digiulio of the Water Department. "Our inlays handled them. The sewer system worked well. The inlay system was able to take all of the water from it."
The Water Department tells NBC10 12 to 14 homes had at least two feet of water and needed to have it pumped out.
The Red Cross is assisting two families with housing.
Water Department crews say it should take a few weeks before they finish making repairs and determine a cause for the break.
Crews have been trying to keep people away from the sink hole for their own safety. Police arrested two people who they say got two close to the hole. They advise residents in the area to use "caution" and "common sense."