Indian officials estimate deaths at around 1000 as they try to reach thousands of pilgrims still stranded.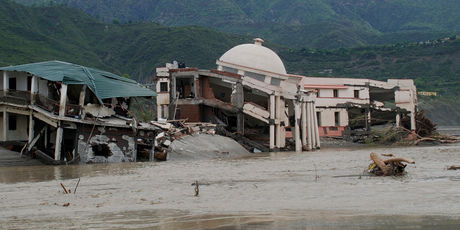 Soldiers in the north of India were battling against time to reach thousands of stranded pilgrims and tourists before the onset of further rains and landslides.
As officials said the death toll from the "Himalayan tsunami" could be as high as 1000, troops and emergency workers were still trying to reach 50,000 people who remain stranded in the state of Uttarakhand.
It emerged that soldiers had spotted around 1000 pilgrims close to the famous Kedarnath shrine; they have been taking shelter in ravines since the monsoon rains last week. India's home minister Sushilkumar Shinde visited Uttarakhand yesterday.
With warnings from meteorologists that more rains were on their way, he set a three-day deadline to complete the rescue efforts. The authorities appear to be struggling to deliver hard data: reports say that the 10,000 soldiers have so far rescued anywhere between 35,000 and 70,000 people.
But there have been reports in the Indian media that thousands of people remain unaccounted for.
Officials said the death toll had reached at least 600 as Uttarakhand's Chief Minister, Vijay Bahuguna, said 560 bodies were buried deep in mud caused by the landslides. At the same time, it was reported that another 40 corpses were found floating in the Ganges, close to the holy town of Haridwar.
But officials fear the final death toll could leap as rescuers reach more and more pilgrim sites that have been inaccessible for a week. "The death toll could be more than 750 - maybe around 1000," Bahuguna said.
"People are going to need warm clothes, blankets, food and water," said Nisha Agrawal of Oxfam. "The areas are inaccessible except by helicopter. And we don't even know what the needs of the local people in those areas is going to be, because we have not reached them."
Usually, the hundreds of thousands of pilgrims who visit the Hindu shrines dotted in India's Himalayan foothills time their journey either side of the summer downpours.
But this year the rains, the fastest moving since 1961, came several weeks early.
Meanwhile, in Canada at least three people have been killed by catastrophic flooding in Alberta which has led to the evacuation of 75,000 people.
The city of Calgary remained paralysed yesterday with its centre submerged under brown floodwater.
At the Saddledome hockey rink water reached 10 rows into the stands.
At Calgary Zoo plans were being made to transfer animals to prison cells.
The floods spread across Alberta at unprecedented speed and were caused by days of rain on frozen ground that could not absorb the water.
While the rains had stopped yesterday and levels were receding, officials are concerned that excess water in the swollen Bow River could still lead to fresh surges of flooding into Calgary.
Around 350,000 people work in central Calgary every day but the area is not expected to reopen until the middle of the week.