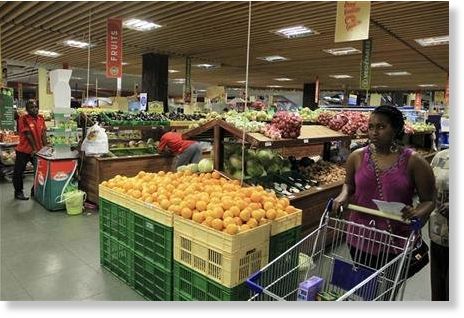 Governments need to boost investment to increase farm output, according to a forecast by international agencies
Rising global food demand will push up prices 10 to 40 per cent over the coming decade and governments need to boost investment to increase farm production, a forecast by two international agencies said on Thursday.
Growth in food production has slowed over the past decade even as rising incomes in developing countries boosted consumption, said the UN Food and Agriculture Organisation and the Organisation for Economic Cooperation and Development.
"We're observing slower growth in production and productivity, and that is a concern," said Merritt Cluff, an FAO economist, at a news conference.
Governments need to find ways to give farmers access to technology to increase output and get more of their crops to market, the agencies said in a report, "Agricultural Outlook 2013-2022."
Prices are expected to rise 10 to 40 per cent over the coming decade, with the cost of meat rising faster and that of grains more slowly, according to Ken Ash, director-general of the OECD's trade and agriculture division.
"We would urge governments around the world to begin to shift and to shift quickly from old-style policies to a greater focus on productivity and innovation," said Ash. "If we carry on blissfully as if nothing has changed in the world, there could be a problem."
Higher prices will have their biggest impact in developing countries where some families spend up to 60 per cent of their incomes on food, Cluff said.
Investment in farming has fallen in recent decades due to a long-term decline in commodity prices and has yet to rebound despite price spikes since 2008, the agencies said. As a result, they said, annual production growth is forecast to slow to 1.5 per cent compared with the past decade's 2.1 per cent.
"It's about a third less. That's a big difference," said Angel Gurria, the OECD secretary-general.
The agencies urged governments to avoid interfering with market forces that can encourage farmers to produce more by raising prices for their goods.
Food consumption in developing countries has grown by up to 30 per cent a year over the past decade as incomes rose, while consumption in developed countries changed little, the agencies said.
China's imports of meat and oilseeds are forecast to grow as its increasingly prosperous consumers spend more on food, the agencies said.
Beijing has pursued self-sufficiency in production of rice, wheat and other grain but for soybeans and other oilseeds relies on imports from the United States, Brazil and other countries.
Imports of oilseeds are expected to rise by 40 per cent over the next 10 years, accounting for 59 per cent of global trade in oilseeds, while dairy imports would rise 20 per cent, the OECD and FAO said.
China should remain self-sufficient in its main crops but for other products its sheer size "will keep markets on edge over the next decade," said Cluff.
Source: AP