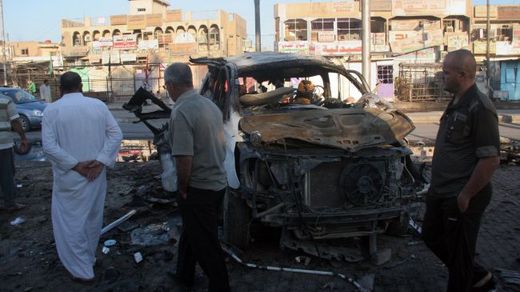 A wave of attacks has killed seventy people and injured dozens across Iraq after several days of relative calm.
No group has claimed responsibility for Monday's attacks, but officials say the main suspects are militants linked to al-Qaeda.
A triple bombing at a vegetable market in the town of Judaida al-Shat in Diyala province left at least 13 people dead and injured 50 people.
"I was selling watermelon and suddenly I heard a powerful blast at the entrance of the market," local farmer Hassan Hadi said.
"I fled from dust and smoke when a second blast turned the place into hell," he added.
On Monday evening, at least 29 people died and 80 were injured in a series of car bomb attacks targeting army and police checkpoints in Mosul.
"We have received many corpses," said Anwar al-Juburi, a doctor at Mosul General Hospital.
"Most of them were members of the security forces," he added.
Police also said two roadside bombs detonated near a cafe in the Sadr City district of northeastern Baghdad, killing four people.
Later on Monday, a car bombing at a market in the Taji neighborhood on the northern edge of Baghdad claimed the lives of seven people.
A number of people were also killed in the northern province of Kirkuk in the towns of Tuz Khurmatu and Suleiman Bek and in Madain, where a bombing caused several deaths.
Iraqi Prime Minister Nouri al-Maliki has said that militant groups and the remnants of the former Ba'athist regime are responsible for the latest wave of violence.