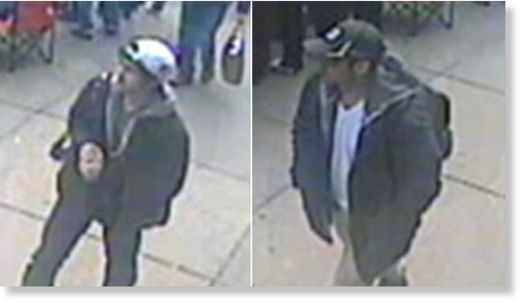 The FBI today released images of two suspects in the Boston Marathon bombing the bureau still considers to be "armed and extremely dangerous."
At a press conference, FBI special agent in charge Richard DesLauriers referred to the two men as Suspect 1 and Suspect 2 and said Suspect 2 was spotted dropping a bag before a bomb exploded at the second bomb site. The two men appear to be "associated," DesLauriers said.
DesLauriers asked the public for their help identifying the suspects, but asked the public not to approach them. Though the men are considered armed and dangerous, the FBI said they still do not believe there is an imminent danger in the area.
Three people were killed and more than 170 wounded in dual blasts near the finish line of the Boston Marathon Monday. No group, foreign or domestic, has claimed responsibility.
Officials told ABC News Wednesday they found a potential suspect using surveillance footage from a Lord & Taylor along the parade route and with the help of a local television station. Today federal law enforcement sources said they had found a second potential suspect in the case.
The FBI asked that anyone with information on the two men to call 1-800-CALL-FBI or visit a special FBI website at bostonmarathontips.fbi.gov.
Surveillance video: