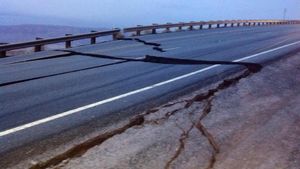 Arizona Department of Transportation spokesperson Tim Tate says that the possibility of more sinkholes appearing in the vicinity of the one that was discovered Wednesday morning remains a concern. Tate says that in addition to engineers and workers dispatched to the area of the Big Cut to assess and move forward with road restoration, about 25-miles south of Page, workers are also looking for signs of other sinkholes.
Tate says the 150-feet wide, 5-feet deep chasm was first reported by two unlucky motorists who apparently drove on the scene not long after the sinkhole appeared. Both drivers suffered minor injuries, possibly from their airbags being deployed.
The region is filled with sand and rock and ADOT workers are taking soil samples as part of the effort to solve the mystery of why the sinkhole appeared. Tate says officials don't believe the incident was weather related and may have been triggered by a geologic occurrence. A check of the U.S. Geological Survey's website doesn't show any earthquake activity in the area of the sinkhole preceding its emergence.
Highway 89 does remain closed at the sinkhole between Page and Tuba City near the Big Cut. Tate says repairing the roadway may be costly and take awhile to accomplish.