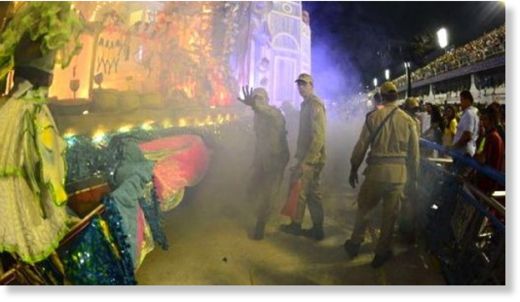 Four people died early Tuesday when a float at the end of a Carnival parade ran into a power line and caught fire in the southeastern city of Santos, officials said.
Three of the victims were pushing the vehicle under the float and the fourth was an onlooker, the office of the mayor of Santos told AFP. Four other people were injured.
The float belonged to the fan club of FC Santos, one of Brazil's top football teams, and paid homage to football great Pele, a former Santos player.
A group of children and a former football player jumped off the float just ahead of the accident, officials said.
Edson Arantes do Nascimento - best known as Pele - offered his condolences to the families of the victims.
"This is something that we cannot understand, but must deliver ourselves into the hands of God," Pele, 72, told G1 news.
Meanwhile in Sao Paulo, just northeast of Santos, judges arrived at a ceremony to announced this year's samba school winner under heavy police protection.
A melee broke out between supporters of two rival schools at last year's ceremony after a fan ran up to the judges and tore up votes.
And Rio de Janeiro, at the heart of Brazil's Carnival festivities, wrapped up its annual samba school competition early Tuesday at the iconic Sambodrome. The contest winner will be announced on Wednesday.