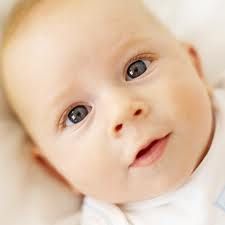 The market for luxury baby products is
on the rise,
with sales of premium products for kids age 0 to 2 up 8.6 percent from 2000 to 2012, and projected to increase another 7.6 percent by 2016. While items like the $1500 Bugaboo stroller, the $300+ Tiffany rattle, and the price-available-on-request Hermes rocking horse may just be cause for an eye roll and a snort, the latest premium baby trend - baby perfumes - is slightly more concerning.
In the last year or so several baby perfumes have made their way to market, ranging from the $6-a-bottle
Johnson& Johnson offering
to the $58-a-bottle
Bulgari eau de toilette
. There's a
Burberry option
as well, and
Dolce & Gabbana
recently became the latest brand to launch a fragrance aimed at babies, claiming that its honey, citrus and musk scent will "accentuate" the naturally lovely smell of babies.
Plenty of media outlets have already commented on the
ridiculousness of the trend a
nd voiced concern over the
marketing of luxury baby goods
, but there's more to it than that.
Fragrance typically contains a cocktail of various chemicals that can be problematic for children, particularly babies. And because of a nifty U.S. regulatory loophole, the manufacturers of fragrances - even those made for babies - do not have to disclose the ingredients of their products
; they can invoke trade secret legislation that dates back to the days when old-school alchemists mixed flower extracts and essential oils to develop unique fragrances and there weren't high-tech labs around to reverse engineer any fragrance a company decided it wanted to duplicate.
In a
2010 laboratory study
commissioned by the Campaign for Safe Cosmetics and analyzed by the Environmental Working Group, 17 popular fragrances were found to contain an average of 14 not-listed chemicals, including things like diethyl phthalate (DEP), which the Center for Disease Control has found in 97 percent of Americans and which
has been linked
to various developmental issues. In addition to any potentially toxic effects, fragrance is routinely listed as a substance to avoid as a potential
allergen
, for both adults and babies.
Baby perfumes could turn out to be a poor business decision as well. While scented baby products have historically sold well in Europe, the U.S. market has tended to shy away from such products. That fact coupled with the potential backlash should one of these baby perfumes be found to contain a known chemical of concern or should the latest baby eau de toilette kick off a rash of rashes should give manufacturers pause.
Public health groups are already working on educating the public about the potential dangers of these products. Today the Campaign for Safe Cosmetics launched a
letter-writing campaign
aimed at
Procter & Gamble
, the U.S. distributor of Dolce & Gabbana's baby perfume, asking it not to sell the product in the U.S. The Campaign may well ask
Johnson & Johnson
to pull its baby perfume as well. Both companies have recently made announcements committing to offering safe and healthy baby products.