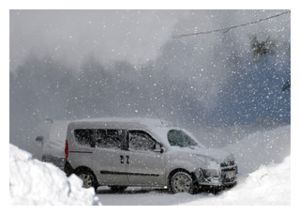 Meric-Ipsala road in the Thrace region of Turkey has been shut down to motor vehicle traffic on Sunday due to heavy snowfall which began in Edirne province.
Aside from the Meric-Ipsala road, 37 village roads have also been shut down to traffic due to heavy snowfall in the region.
Road crews are working to open the Meric-Ipsala road to traffic again on Sunday.
Snow thickness at Uludag, one of the favorite skiing centers of Europe, reached 215 centimeters on Sunday.
The Weather Department of the north-western province of Bursa said that they expected snowfall at Uludag on both Sunday and Monday.