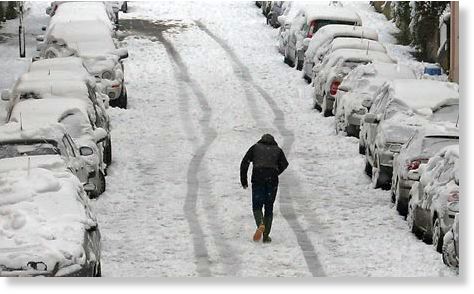 More flights cancelled, trains delayed and roads closed, and AA warns over drivers failing to clear snow from car roof.
Heavy snow brought its usual mixture of beauty, fun and serious disruption to most of the country on Monday as the cold front that turned southern England white on Sunday moved east and north.
Hundreds of schools were closed, disrupting some GCSE and AS-level exams, and there were cancellations and delays on roads, rail and in the air as bitterly cold winds added drifting to already deep falls and widespread ice.
Heathrow airport suffered worse disruption than expected with 175 flights cancelled by midday, well over the figure of 130 predicted earlier. Sunshine brought a rapid thaw but the total later crept close to the 260 cancellations of Sunday. The airport blamed poor visibility.
Gatwick and Birmingham airports were also badly disrupted and East Midlands and Robin Hood airports were closed to flights.
The number of fatalities linked to the weather increased to six with a 25-year-old woman found collapsed in the snow near Deal, in Kent. Bernadette Lee had been out drinking the night before and police said it was not yet clear whether she had slipped or collapsed because of drink or illness.
A driver died in an accident in ice and snow on the A12 in Essex, and four young climbers died in an avalanche at Glencoe at the weekend. The climbers were named as Christopher Bell, 24, an ocean mapping student who was one of Scotland's leading amateur mountain bikers; Tom Chesters, 28, a doctoral student from Leeds; Una Finnegan, 25, a junior doctor from County Antrim; and Rachel Majhumdar, 29, a doctor at Harrogate district hospital.
A fifth member of the party, a 24-year-old woman from Durham, is seriously ill in hospital. A sixth managed to jump clear and cling to an ice axe when the avalanche swept the others 1,000ft down Bidean Nam Bian mountain. A friend of the group, Sam Morris, 35, said: "All four of them were people with a bright future and all of them were committed to making a difference. It's such a loss."
A teenager is critically ill with head injuries in the James Cook university hospital in Middlesbrough after a sledging accident. Liam Stafford, 16, hit a tree after going out with friends from a youth football team in Normanby when the weather cancelled their fixture. The team's manager, Kev Brownell, said: "He is a popular lad and the boys are all friends. They have all grown up together."
East of England ambulance service dealt with a dozen sledging accident victims, most with broken bones, and London fire brigade warned people to stay off frozen ponds and lakes after rescuing two dog-walkers who had fallen through the ice. Assistant commissioner Jim Knighton said: "To put it bluntly, it's extremely fortunate we weren't faced with a fatality yesterday. If people fall into an icy lake, hypothermia will quickly set in and they won't survive for very long."
Another man was treated for facial fractures after teenagers pelted him with snowballs in Kent in what police believe was a racially motivated attack.
School closures rapidly topped 2,000. There were 900 shut in Yorkshire alone, along with 150 in Greater Manchester, 279 in Norfolk, 400 in Suffolk and Essex, 100 in Cambridgeshire and scores in the Midlands and Wales. Parents volunteered themselves as shovellers to keep others open. A school bus taking 20 children to primary school skidded off the road and down an embankment near Caerphilly, south Wales, closing the road but causing no injuries.
Two routes across the Pennines were closed: the A628 Woodhead pass between south Yorkshire and Manchester, and the A66 between Bowes in County Durham and Brough in Cumbria, a regular victim of bad weather. Further north, the A68 between Durham, Northumberland and Scotland was closed at Stagshaw. Soldiers from Otterburn barracks in Northumberland helped to free two buses full of passengers that got stuck on the A696 close to the army's firing and exercise ranges.
The M6 motorway was closed in Cumbria for part of the day after a Land Rover towing a trailer of bullocks overturned on the northbound carriageway at Southwaite. Driver and animals escaped uninjured.
Train services were cancelled or delayed on Eurostar, First Capital Connect, Southeastern, Southern, South West and Virgin routes, and delays worsened during the day on the east coast mainline between London, Yorkshire and the north-east and Edinburgh. London Underground and overground were subject to delays, with over-running weekend engineering work adding to the effects of the weather.
The AA warned about a spate of people driving so-called "snowman cars" after failing to clear piles of snow off the roof, or even setting out with only a small patch of the windscreen cleared "as if they were driving a tank". Callouts to breakdowns were running at 2,000 an hour by midday, including one to a patrol vehicle hit by a 4x4 that took a bend in Surrey too fast in ice. Another driver got stuck on his lawn after failing to find his drive in deep snow.
In spite of suggestions that the disruption might tip the UK into a triple-dip recession, David Cameron talked up the fun side of snow. "You never normally see, after a few days, the snow still on the trees in London," the prime minister said. "I was just talking to my two-year-old daughter, Florence, and said that she has got to make a snowman this afternoon, while it's all still there. The first time they see snow is an exciting moment."
The former prime minister Tony Blair was less lucky, having to cancel a visit to Newcastle-upon-Tyne to see the work of his sports foundation, which encourages young people to take up sport and adults to become trained coaches.
Edinburgh Zoo's giant panda Tian Tian (Chinese for "sweetiepie") experienced her first Scottish snow and celebrated by destroying her keepers' snowman and eating its carrot nose.
The snow pushed further north into eastern Scotland overnight, with a new band arriving in the south-west of England before dawn. The Meteorological Office expects icy temperatures to continue all week, with further but probably less intense snow showers. The weekend is expected to see the start of a change to milder, wetter and windier conditions.